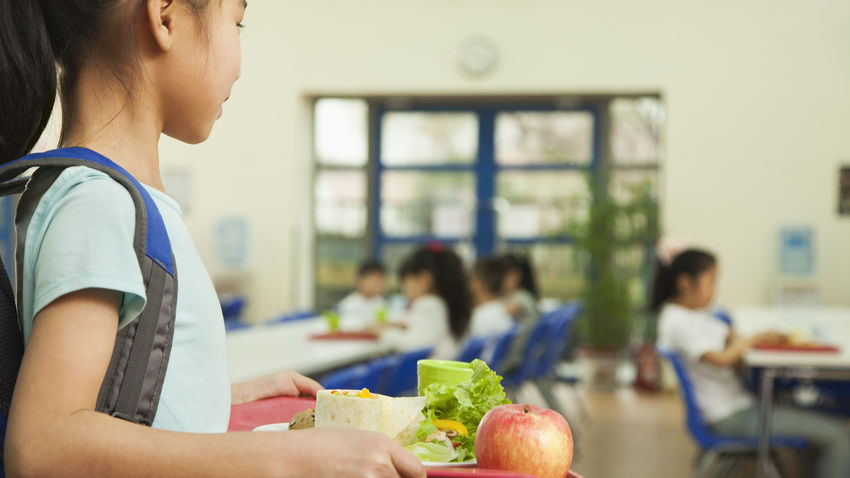 Federal nutrition policies that provide free or reduced-price breakfast and lunch to low-income students can reduce child hunger and food insecurity. The nutrition-rich meals can help counter risks for childhood overweight and obesity. School meals are a truly frontline public health program, and they're well funded at a national level. But some schoolchildren aren't accessing food they're entitled to. Some schools face key barriers to successful implementation, and public schools often don't have resources to get a big picture view of what's working and what isn't.
"There are implementation gaps to the program being as successful as it can be," says Gabriella McLoughlin, assistant professor in the Department of Kinesiology in the College of Public Health.
McLoughlin has been awarded a grant from the National Heart, Lung, and Blood Institute to bring scientific rigor to the world of subsidized meal programs. In a five-year study, she will apply a method called implementation mapping to study existing meal programs in Philadelphia public schools, aiming to identify approaches that are working best for the schools and their students.
Implementation mapping is a systematic process for developing strategies to improve the way interventions in real-world settings are put into practice. In this case, the intervention being implemented is school meals. All students in the School District of Philadelphia automatically qualify for free breakfast and lunch under the National School Lunch Act, thanks to a rule called the Community Eligibility Provision (CEP). The CEP allows schools or whole districts with at least 40 percent of students qualifying as disadvantaged, based on specific certain criteria, to provide free meals to all students. This eliminates the need for families to apply individually for the benefit, reduces stigma, and removes out-of-pocket costs for households.
However, not all schools and students take full advantage of the program. Amy Virus, manager of administrative and support service in the Division of Food Services for the School District of Philadelphia, says about 70 percent of students take free lunches and 40 to 45 percent take breakfasts. One issue influencing participation is perceived stigma in accepting free food.
"What we hear anecdotally is that the students don't want the quote-unquote freebie. There is stigma associated with it. It's more with older students than younger students," Virus says.
Working with Virus in Philadelphia public schools, McLoughlin's research team will identify middle and high schools that have varying levels of participation in school meals. The study will include assessments of existing school implementation, their successes and challenges, and reasons why students may forgo the meals.
"We have 250 buildings, and each building has its own set of needs. So it's not a one-size-fits-all, which is what makes this complicated," Virus says. 
Ultimately the project will create and test interventions based on the research, designed to improve school meal participation rates. "We're interested in hearing what students and others have to say about what could make more students want to participate in our meals program. Maybe it's a campaign that would help reduce the stigma, help us modernize, help us to look at it with fresh eyes, maybe see an obvious thing that we don't see," Virus says.
The study will provide pilot data for a larger trial. McLoughlin also is working with the Urban School Food Alliance, a national network of urban school districts, so findings in Philadelphia could potentially inform other school systems in their efforts.
 "The goal is to provide evaluation support to schools," McLoughlin says. "How can we improve feasibility of the program? How can we improve acceptability? How can we evaluate the cost of implementation? It's about increasing uptake at the student level, increasing health outcomes at the student level, and decreasing food and nutrition insecurity for families."
Categories