Athletic Training Program Accreditation
The Temple University Athletic Training program is accredited by the Commission on Accreditation of Athletic Training (CAATE).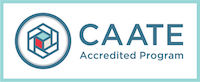 View program information and outcomes data on CAATE's website.
Within the past five years,
a master's research project was completed and defended by 100% of graduates;
presentations at the college, local, state and/or national level were given by 100% of graduates; and
Temple amassed 20 publications in peer-reviewed journals.
Program Goals
Critically evaluate research evidence.
Create and complete a research project.
Present and defend results of an independent research project.
Demonstrate professional skills in clinical practice by attending and/or presenting at local, state or national conferences.
Discuss advanced concepts in brain injury and sensorimotor control systems.
Student learning outcomes
College of Public Health Accreditation
Temple's College of Public Health is fully accredited by CEPH. The college is one of only two CEPH-accredited schools of public health in the Philadelphia region and one of three in the state of Pennsylvania. Learn more about the College of Public Health's accreditations.