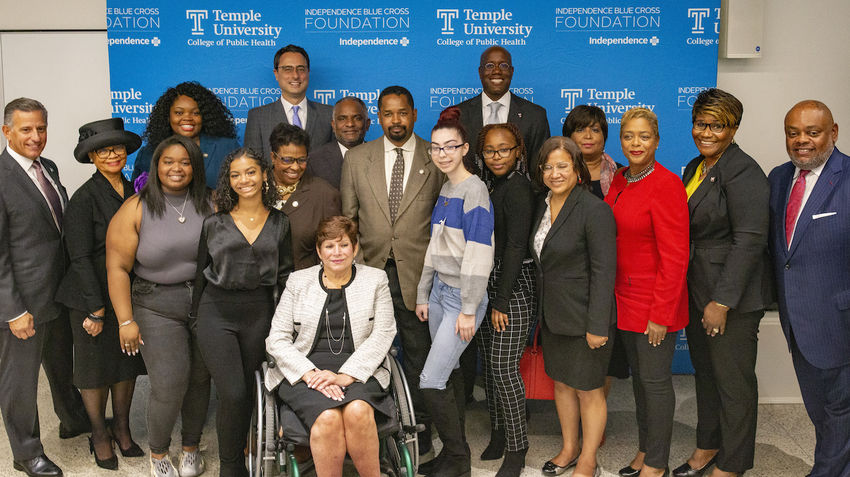 Temple's College of Public Health and the Independence Blue Cross Foundation today introduced a multiyear grant program to create a direct pathway to nursing from high school to college for students from underrepresented communities. The new IBC Foundation Healthcare Scholars Pipeline Program will provide full four-year scholarships to students from select local high schools pursuing a bachelor of science in nursing degree in the College of Public Health.
In addition to the grants, which cover tuition and educational expenses, students will receive mentoring, internship placements, and the opportunity to secure job placements in the Temple University Health System upon graduation. The initial group of five nursing scholars consists of students from North Philadelphia and surrounding neighborhood high schools. The Healthcare Scholars Pipeline Program will expand in coming years to include up to 20 students. 
"We want to make sure that we continue to engage more and more students who are growing up in this community to be able to learn how to go back and serve the community," Temple University President Jason Wingard said at an event to announce the grant partnership with the IBC Foundation.
Temple also will offer three-day summer programs for high school students focused on safety and first aid, healthy nutrition, stress management, and the role of nursing in the health of individuals, families, and communities. The goal is to raise awareness of nursing as a career, and to help students meet nursing school admissions criteria. 
The 2020-2023 Future of Nursing Report by the National Academy of Medicine emphasizes the diverse healthcare needs of changing populations, and specifically advises that nurse education programs expand recruitment of diverse students. This educational pipeline program will meet this objective by increasing underrepresented backgrounds in nursing.  
"This is one way that we are taking a look at racial and economic disparities that need to be reduced or eliminated, so that the American healthcare system can reach its full potential," said Gregory E. Deavens, chief executive officer of Independence Blue Cross. Deavens noted that over the past 20 years, Independence Blue Cross has invested more than $26 million in nursing education programs, as well as $28 million provided to community health centers and other partnerships addressing health equity and the social determinants of health in underserved communities.
"We're excited to work with Temple on nurturing the next generation of nurses right here," he said.
The inaugural group of grant recipients—Jamirah Branch, Sahira De Los Santos-Tapia, Justine Jones, Hannah Mahler, and Sakeesha Similien—have just begun their studies as members of the Class of 2025 in Temple's nursing program.
"Most of these students are the first in their families to attend college," said Jennifer Brown, assistant professor in the Nursing Department, who has worked with the IBC Foundation to establish the grant program. "They will become ambassadors for the IBC program, for Temple University, the College of Public Health and the nursing profession."
Stephen Fera, executive vice president of public affairs at Independence Blue Cross, told the group of nursing scholars at the announcement that they were the "Mount Rushmore" of the new grant program. "What you're doing is planting seeds, both for those who follow you and those you're caring for," he said.
The announcement event was attended by principals from area high schools and state and city elected officials.
Jones, who graduated from Cristo Rey Philadelphia High School, said she aims to become a trauma nurse working in her community.
"I really want to thank Independence," she said. "Not only are you putting your money and your time into me, you're putting your money and time into the community. Because I promise you that I will take this opportunity and I will use it to give back to my community. That is my main goal."