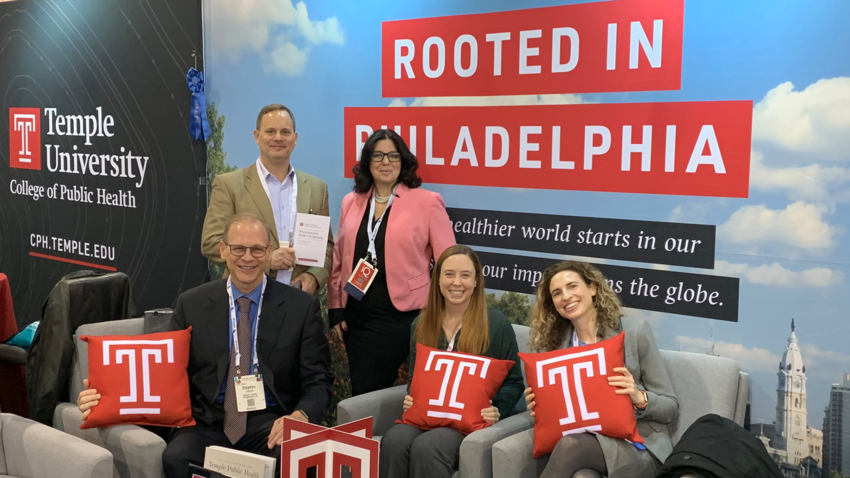 Photo courtesy of Stephen Lepore
At the American Public Health Association (APHA) Annual Meeting, held at the Philadelphia Convention Center on November 2–6, College of Public Health researchers and students took part in more than 40 sessions, sharing findings from their research and community initiatives.
On Sunday, Nov. 3, Jessica Boyer, associate director for assessment and accreditation and president of the Pennsylvania Public Health Association, spoke in the opening general session, "Creating the Healthiest Nation—For Science. For Action. For Health.", alongside Philadelphia Department of Public Health's Thomas Farley, Pennsylvania Secretary of Health Rachel Levine, and others. Earlier that day, the college welcomed guests to a kickoff reception at Reading Terminal Market (see photos below). 
In one highlight of the college's presentations, Jennifer Ibrahim, associate dean for academic affairs, discussed the process and impact of helping Temple go tobacco free in "TobaccoFreeTemple: Creating a Tobacco Free Campus in an Urban Environment," with students Cassidy Tarullo, Courtney Cunningham, Kirstin Chalupa, Pharah Morgan, and Tirzah Sheppard. 
The Center for Obesity Research and Education (CORE) held a strong presence: CORE members David Sarwer, associate dean for research, Gina Tripicchio, and Jennifer Fisher shared findings from their collaborations with the Kornberg School of Dentistry in "Interdisciplinary Collaboration to Improve Student Training and Produce Impactful Research Nutrition, Obesity, and Oral Health." 
Elsewhere, multiple posters and presentations explored research in smoking cessation interventions and efforts to reduce tobacco smoke exposure, including findings from Bradley Collins and Stephen Lepore's Kids Safe and Smokefree trial. 
Members of Temple's Collaborative on Community Inclusion delivered multiple presentations, such as "Getting out of the House: The Role of Community Participation in Supporting Health and Function in Adults with SMI" about research from Bryan McCormick, Eugene Busilovskiy, Gretchen Snethen, Mark Sazler, Louis Klein, and Greg Townley. Collaborative researcher Beth Pfeiffer, who has extensive work in the area of transportation access for individuals on the autism spectrum, presented on "Services Access and Transportation: Impact of a Comprehensive Travel Training Program for Individuals with Intellectual and Developmental Disabilities."
Students also held a strong presence at the event. Public health student Tanya Dhingra presented on "Understanding Menstrual Hygiene Disparities Among Adolescents in Indian Urban Slums," a topic she explored as part of her Diamond Research Scholar award. Later, doctoral fellow and Ph.D. student Hamlet Gasoyan was awarded for his presentation on the "Impact of Insurance Plan Design on Bariatric Surgery Utilization."
And the college itself also received special recognition: On the show floor, the College of Public Health received first place in the "Best Booth" category, taking home the blue ribbon.
View the full list of College of Public Health presentations from the Annual Meeting.
Categories