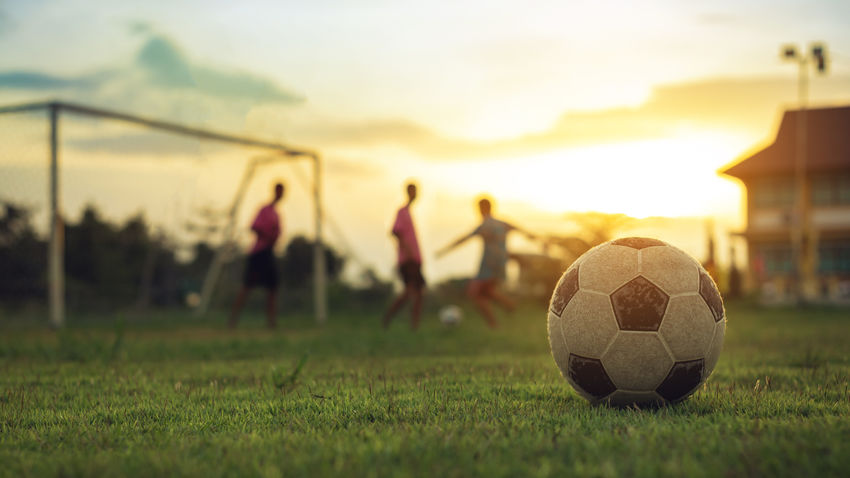 At a time when student opportunities to study abroad are curtailed by pandemic travel restrictions, the College of Public Health's Department of Kinesiology has formed partnerships with institutions in Africa to collaborate virtually on public health research projects.
"Physical activity and nutrition are important around the world—and different around the world," says Mark Stoutenberg, chair of the department. "The more we can expose our students to the issues that people face in different populations, the better equipped they'll be to put it into practice, wherever they go."
In a research collaboration with the University of Maiduguri in Nigeria, an international team of students and faculty is examining associations between community violence and mental health issues and whether physical activity can play a mediating role. Jeff Gehris, associate professor of instruction in kinesiology, has joined with Adewale Oyeyemi, a lecturer in physiotherapy at the University of Maiduguri, to lead a systematic review of the existing literature. 
Three American students were matched with three Nigerian students, and the student pairs reviewed thousands of past studies that examined community violence, mental health and physical activity. They received assistance from Stephanie Roth, biomedical and research services librarian at Temple.
The students were able to meet by video to begin the collaboration and share their own life experiences. "They talked about life in Maiduguri and in Philadelphia, their respective cultures, what the educational systems are like, what they're studying, their work ambitions, their families," Gehris says.
Although Philadelphia and northeast Nigeria are different environments, both expose some residents to public acts of violence, whether threatened, experienced or witnessed. The issue is salient for both sets of students. In Borno State, Nigeria, thousands of families have fled their homes due to attacks by armed groups. The study isn't focused on these locations; it incorporates research from all over the world. 
Systematic reviews are designed to take stock of pre-existing research that might never have been assessed together before, in an effort to identify stories that the research might tell investigators and practitioners. The student teams performed initial screenings of papers to be considered and will use statistical techniques to numerically score the effect of physical activity in relation to community violence and mental health. The researchers will break down findings by age groups to see if there are noteworthy findings for children, adolescents, adults or older adults.
"Our study may help to summarize the importance of physical activity for these situations," Gehris says. "Does it have a role in communities that we're not yet looking at? There may be implications for programs that are attempting to help youth who have been exposed to community violence."
College of Public Health graduate kinesiology students also are working remotely on a collaborative study with the University of the Witwatersrand (Wits University) in Johannesburg, South Africa, where Stoutenberg spent time as a Fulbright Specialist. The project is examining the effectiveness of a program that trains young adults to work as community health workers in the Soweto township, partly as a response to the country's surging unemployment rate. 
"They go door to door, during COVID all masked up, and they are taught to screen for physical activity and hypertension and provide some basic guidance," Stoutenberg explains. The Wits University researchers followed up on those household visits by interviewing residents who received the service. CPH kinesiology students have been reviewing translated transcripts of those follow-up interviews to prepare a summary of the findings to be published.
Graduate students Lia McNulty and Andy Ly say the follow-up interviews reveal that the residents are happy to have the health advisors come to their doors—a good sign for the program. The students also appreciate the perspective they have gained on global health through the project.
"Having this exposure outside of the United States is so valuable. I think it will help me consider the needs of different people and different populations wherever I go," McNulty says.
"I'm really interested in exercise as culture," Ly says. "It's valuable to see what other people are doing, and what other people are like, and try to connect those dots. The goal is to try to tie together global health and practice back here."