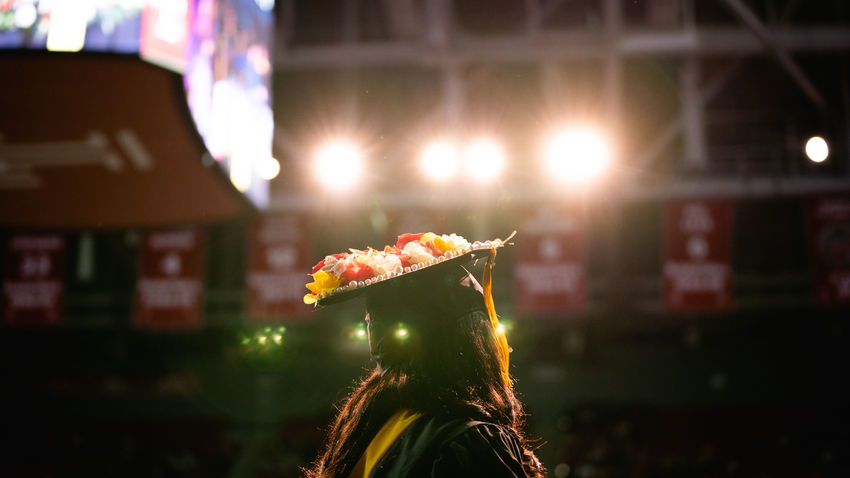 On Friday, May 6, more than 1,000 undergraduate and graduate students in the College of Public Health and the School of Social Work, representing more than 25 degree programs, received their bachelor's, master's and doctoral degrees at the 56th College of Public Health graduation ceremony. For the first time since 2019, students celebrated in the Liacouras Center among families, friends and guests. The ceremony followed the university commencement ceremony the previous day, which officially conferred degrees on the nearly 10,000 students in Temple's Class of 2022. 
In her opening remarks, College of Public Health Dean Laura A. Siminoff reminded students of the great responsibility resting on them as they "confront the greatest challenges of our time," as well as their role in shaping the future of public health. 
"You, our graduates, will be the change agents who, little by little, will remake the way we deliver care, services and conduct our research," said Siminoff. "I know that you will harness your talent, energy and dedication to make our country and our world a much better place."
Keynote speaker Judy Faulkner, CEO and founder of healthcare technology pioneer Epic, encouraged graduates to keep in mind their "brains, hearts and courage"—the qualities that will help them succeed as healthcare and social service innovators, practitioners, and advocates, preparing them for the many challenges ahead. 
"I'll pass it onto you to put on your shoulders—please work to make the world better: Homelessness, gun violence, wars and refugees, mental health issues, and the repercussions of climate change," said Faulkner. "Most of you are at Temple because you want to be someone who can help other people. You've chosen to spend your life helping the world be a better world."
In the student address, Jasmine Dantzler, a health professions and accelerated doctor of physical therapy student, echoed the importance of this responsibility: "We all will be taking on a role to be the world's saving grace for the future," she said.
"But no matter what community you end up in or if you stay in the city of Philadelphia, strive to touch someone's life positively. Help someone using humility with no barriers, no boundaries, and no limits, just like Temple has done for us. I cannot wait for all of us to change lives for the best."
Categories