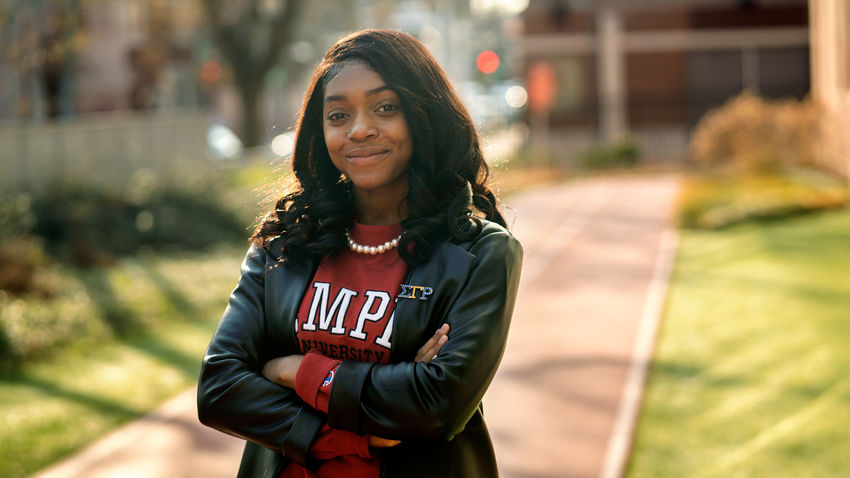 "Everything has been preparing me for this moment," says Jasmine Dantzler in the months before graduation, where she's preparing to deliver the student address. Next week, she'll graduate with her bachelor of science and complete her first year of the accelerated doctor of physical therapy program, taking the next step in a journey that began long before her time at Temple.  
As a high school athlete, she traveled the East Coast running track meets in one of the sport's most competitive conferences, competing alongside future olympic medalists. But rather than continue training throughout her college career, she saw another path.
"Instead of me saying 'I want to be a D1 athlete,' I felt that it would be great to treat D1 athletes," she says. "I know not only how they may be feeling physically, but also mentally and emotionally."
She shadowed physical therapists at an outpatient clinic in high school, which furthered her interest in the field. And during her sophomore year at Temple, a car accident cemented her decision to pursue a career in physical therapy, as she saw firsthand how instrumental PTs were in her recovery. 
But Dantzler credits an earlier source of inspiration for first setting her on the path to become a physical therapist.
"My mother was a PT technician when she was my age, and she showed me that I could potentially be a physical therapist and even have my own practice if I wanted to," said Dantzler, who is the first in her family to receive a college degree. 
Dantzler grew up in a suburb of Washington, DC, but knew she wanted to attend college in an urban city. She was drawn to Temple due to both its PT program and the sense of community she found on campus, she says. 
"What really stood out to me was Temple as a whole community—how welcomed I felt, how diverse it was," she says before adding: "The great physical therapy program was a bonus."
Dantzler soon became a vital part of that community. In her first year at Temple, she joined the Black Professional Health Association, which connected her to mentors and fellow students who were sharing her own experience as a Black student pursuing a career in a health profession. 
Among her many clubs and activities, she is a member of Temple Gospel Ministries and the National Council of Negro Women, as well as a 2021 initiate of the Beta Delta Chapter of Sigma Gamma Rho Sorority Inc., where she became chapter basileus/president. Since January, she's worked for the athletic training staff for Temple Football and will assist the team throughout the upcoming season as she continues pursuing her doctor of physical therapy. And in her four years as an Owl Ambassador, she's become a mentor and model of her own, helping prospective first-year students, particularly young Black women with an interest in health careers, find their place at Temple.
"I know it's important for me to speak up for women of color in my career field in the future and to go back to smaller communities and show them that Black women can be physical therapists, can be in STEM, can be in the health professional field," she says. "When I'm successful, I want to be able to help other Black women be successful in their field, regardless of whether it's physical therapy or nursing or dermatology."
Dantzler will deliver the student address at the College of Public Health graduation ceremony on Friday, May 6.