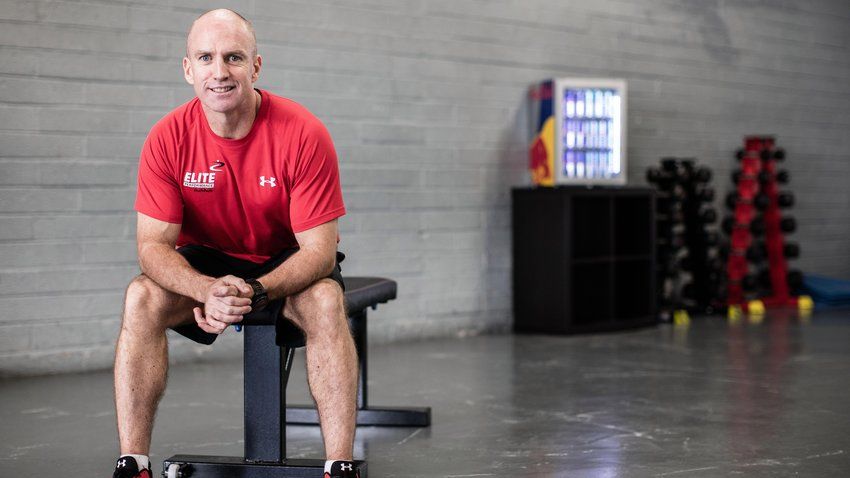 Photo courtesy of Mike McGurn
Before he was a renowned strength and conditioning coach, before he trained Premier League soccer teams in England and the Irish national rugby squad or prepared Irish boxer Bernard Dunne to win a world championship, Mike McGurn, CPH '91, was a quiet teenager who came to Temple as a physical education major. He arrived in 1987 from his home in County Fermanagh in Northern Ireland, a chance to get away from The Troubles, with a scholarship to run on Temple's cross-country team. He showed potential to be a world-class distance runner until injuries sidetracked his dream of running in the Olympics. But he says his experience at Temple, in a program that has evolved to become the exercise and sport science degree at the College of Public Health, put him on a path that changed his life. 
"Every bit of success I've had in sports, it started at Temple," McGurn said recently from Belfast, where he is lead strength and conditioning coach for Queens University. 
Being the only native Irish kid on campus got him attention and opportunities at Temple, he says. But he must have had something else going for him, the way he started making connections.  
"People have always warmed up to Mike very quickly. He's very genuine, and you always know where you stand with him," says Phil Gormley, athletic director at Philadelphia's Northeast High School and a fellow Temple alumnus, who has stayed friends with McGurn since their days as classmates. 
As a freshman McGurn met Temple basketball coach John Chaney, who became a mentor. While working a summer construction job, he plastered Charles Barkley's house and was able to hang around with the 76ers basketball star. Given the chance to observe fitness work by the Flyers, Eagles and 76ers, McGurn met Pat Croce, the energetic entrepreneur who had been the first conditioning coach hired by a National Hockey League team. Meeting those sports luminaries helped young McGurn think big and understand how to be a pro. 
"Chaney taught me the importance of discipline. Be on time, don't dress sloppy, take pride in your sport, do the little things right. Most of all, he taught me the humane side of coaching. Treat your athletes like they are your own kids," McGurn says. "Croce was more of an old-school mentor. Give your all, there is no tomorrow, kill or be killed, all that kind of stuff. Barkley was so down to earth for such a massive sporting figure. He taught me at the end of the day he is just a normal human being like us.  He demystified the concept that NBA superstars were some type of diva personalities." 
By the time McGurn got his Temple degree, McGurn says he was changed. "I left Ireland at 17, a shy introvert, a nerd. I left Philly a different person. I knew how to speak to people and engage. The information that I learned about sports at Temple was cutting edge, years ahead of the UK," he says. 
When he returned home from college, he started teaching, then put his education to work revolutionizing the conditioning regimen for players on the hurling team in Fermanagh.   
"Traditionally, it was 20 laps on the pitch, play a match, and go home. I stopped all that," he says. "I said 'we do a proper warm up, we do speed, we do agility. We do skill development under pressure, we play a short, 20-minute game and go home.' The team ended up becoming national champions for the first time ever. We won all the games in the last 10 or 15 minutes because we were the fastest and the strongest." 
One success led to another. McGurn began lecturing in sports science at a college in England and developed innovative ways to train the local rugby team there—innovating in part because he'd never held a rugby ball. "I'm a Catholic from Northern Ireland. Rugby and cricket were banned in our schools because they're considered British," he explains. 
He was recruited to condition rugby players in the Super League, then headhunted by David Lloyd, a former tennis star who had a chain of fitness clubs, to train rugby and soccer players on teams that Lloyd owned. McGurn went on to train Premier League teams including Manchester United as well as the Irish national rugby team. He also worked with New Zealand's national rugby union team, the All Blacks, which have been called "the most successful sports team in human history." 
"Every time you talk to him, he's going on another adventure," Gormley says. 
In 2009 McGurn was approached by Dunne, a boxing contender from Dublin, about getting the fighter in shape to challenge super-bantamweight champion Ricardo Cordoba. McGurn created an intense training camp that focused on explosive power and stamina. His plan for Dunne, he told the Irish Times, was to "make training so hard that fighting seems almost easy." Dunne was knocked down twice in the 5th round of the fierce fight, but he got up to win by technical knockout in the 11th. 
McGurn also has worked with actors including Daniel Craig and Sean Bean. He continues to lecture, develop academic courses, and write articles about strength, conditioning and sports nutrition. Occasionally, he returns to Philadelphia to visit old acquaintances like Gormley. 
"Temple showed me a side of sports and a way of life that I can't thank them enough for," he says. "I have had a fantastic life. I've seen the whole world. And when I reflect back, it was all down to coming to Temple." 
Categories