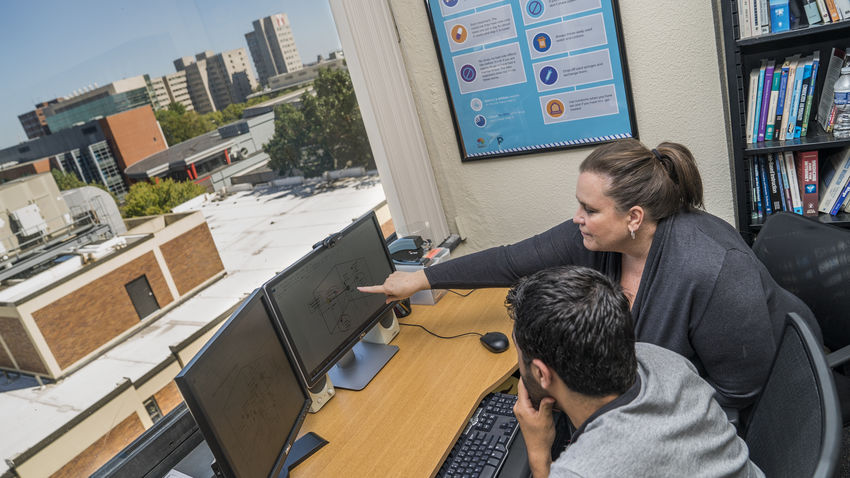 Research projects on HIV prevention in Philadelphia and hereditary disease in Saudi Arabia have won top honors for two researchers in the College of Public Health's Department of Social and Behavioral Sciences. 
The Society of Behavioral Medicine will award annual prizes for best research abstracts in the nation to Sarah Bass, associate professor and director of the Risk Communication Laboratory, and Mohammed Alhajji, a PhD candidate and research assistant in the Lab. 
Alhajji, who won in the student research category, proposed a promising intervention to prevent the spread of sickle cell disease, one of the most common genetic disorders in his home country of Saudi Arabia.  A child can develop the disease only if both parents carry the abnormal recessive gene, but many people don't know if they do. Traditions of arranged and intrafamily marriages create the risk of pairing relatives such as cousins who may both carry the gene. A 2005 law required premarital screening to receive a marriage license, Alhajji says, "but the timing of the screening as required by the government is way too late in the process. You could be dating for years and have all the arrangements set up, and then right before your wedding you get a screening. Some people just ignore the results."
In April of 2019 he returned to his home municipality of Alahsa to conduct focus groups and collect data from parents and high school students, measuring their openness to screening children as teenagers.
"There was a huge support of it," he says. Earlier screening would make age-old marriage traditions safer. "I'm not proposing any change of culture, because that would be too much of a battle for me. What I'm suggesting is a tool to guide their arrangement."
Alhajji's paper on this research, which became his award-winning abstract, is his PhD dissertation.
"I'm kind of aiming high here," he says, "but hopefully when I conclude my dissertation, I would submit a policy report to the [Saudi] Minister of Health, hopefully to amend the laws and make screenings earlier. I think they could do it."
Bass won her award for best abstract in the women's health category. As part of a NIH-funded study, her team surveyed women at risk for HIV due to their use of injection drugs or because they are sex partners of those who inject. The aim was to learn about barriers the women face to using PrEP, a prophylactic medication that can reduce or prevent HIV acquisition. Most of the women (66 percent) who participated in focus groups at Prevention Point Philadelphia, a health services organization that runs one of the largest syringe exchange programs in the country, said they were aware of the medication, but many said it was hard for them to see doctors, manage prescriptions, or hold onto the pills in living circumstances that might include homelessness. 
"They didn't have easy places to keep it. And there's also interestingly kind of a black market," she says, where prescription bottles might be sold for money. Bass's paper and abstract suggest that a possible solution is providing the medication at the needle exchange.
Bass and Alhajji will separately present the projects that their award-winning abstracts describe, and receive their prizes, at the Society for Behavioral Health's 2020 meeting in early April.
"It's really rare and a great honor to have two of these awards from the same research lab," Bass says.