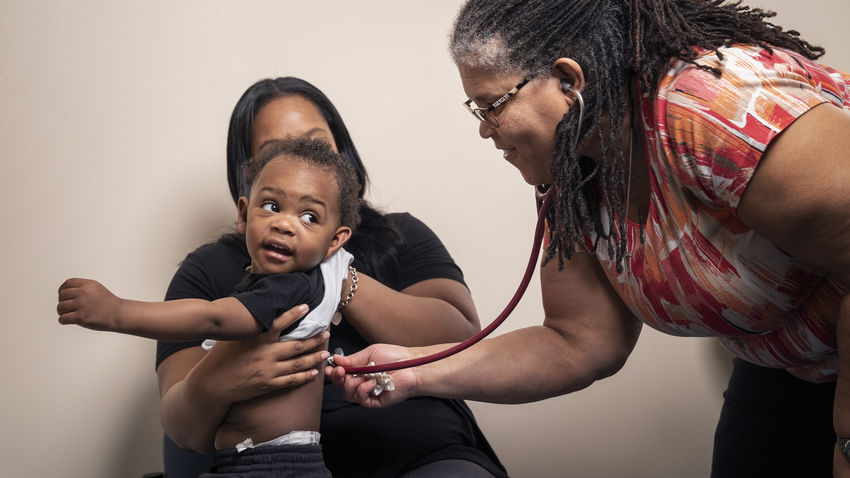 The College of Public Health announces the opening of the Vaux Community Health Center, a nurse-managed primary care clinic in the Sharswood/Blumberg neighborhood of North Philadelphia.
Vaux is a community-based health center that focuses on the health and well-being of the whole person, offering comprehensive services for all ages including health screenings, acute and chronic disease management, health education and health promotion programs, care coordination, and preventive services that meet the unique needs of the local community. The health center is led by an experienced team of registered nurses that include Sofia Carreno, nurse manager, and Shawn Jackson, Sue Gresko and Deborah Moss-Gail, certified registered nurse practitioners with expertise in family health and pediatrics.
Vaux is part of a communitywide effort known as the Sharswood/Blumberg Neighborhood Transformation Plan, led by the Philadelphia Housing Authority with funding from the U.S. Department of Housing and Urban Development. In addition to the health center, the effort includes improvements to education, commercial activity, public safety, workforce training, and residential units.
"We are excited to be part of a neighborhood effort to improve the health and well-being of residents and the overall health and vitality of the community," said Marti Kubik, professor of nursing and executive director of the health center. "I believe our mission says it all: 'To partner with the residents of the Sharswood/Blumberg neighborhood to provide quality health care that supports personal health, family health and the health of the community.'"
Vaux Community Health Center is located in the Vaux Building at 2300 West Master Street and opened to the community on September 3, 2019, with operating hours of 9 a.m.–5 p.m., Monday through Friday. The health center accepts a range of insurance plans. Please call 215-707-0585 if interested in establishing care at the health center.