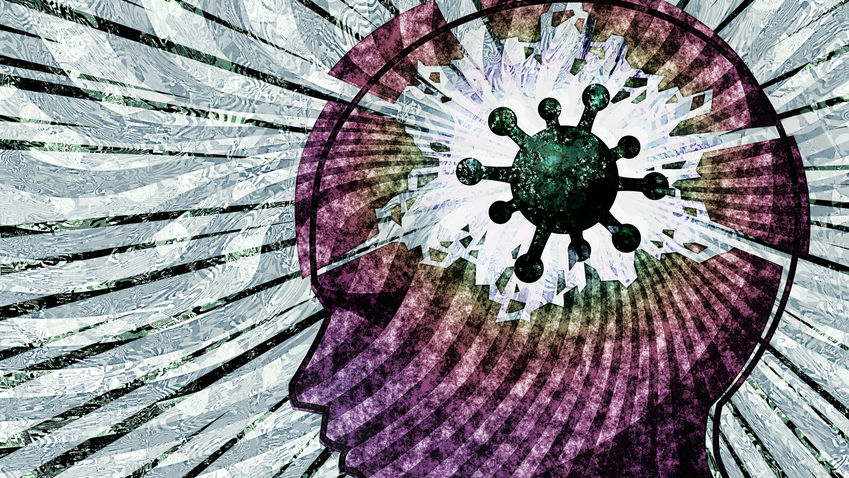 Three College of Public Health studies focusing on COVID-19 have been awarded funding under a universitywide program designed to spark innovative interdisciplinary research. The Catalytic Collaborative Funding Initiative, administered by Temple's Office of the Vice President for Research, provides seed funding to studies that allow researchers from different parts of the university to combine their expertise in investigating cutting-edge areas of technology, energy, biology and health.
The internal funding serves as a kick-starter for promising investigations, allowing Temple researchers to gather preliminary findings that can be included in applications for funding from federal agencies like the National Institutes for Health, National Science Foundation and Department of Defense. 
Understanding long COVID
Abby Rudolph, associate professor of epidemiology and biostatistics, is studying the incidence and risk factors for long COVID, which is when symptoms or conditions persist or develop after recovering from acute infection. These sequelae, or conditions resulting from a prior illness,  may include difficulty with thinking and concentration ("brain fog"), depression, muscle pain, headache, heart palpitations, and serious complications such as inflammation of the heart muscle, lung function abnormalities, and psychiatric issues. More than 50 long-term effects have been documented, and it's estimated that 10 to 30% of people who recover from COVID-19 may experience long COVID, but the prevalence and incidence of these lingering health conditions and risk factors for experiencing them are not well known. 
Rudolph is collaborating with Gerard Criner, chair and professor of thoracic medicine and surgery at Temple's Lewis Katz School of Medicine, and Michael Jacobs, emeritus professor of clinical pharmacy at Temple University School of Pharmacy. The research team, including a medical student, public health doctoral student, and postdoctoral student, will examine records from thousands of patients hospitalized for COVID-19 and non-COVID pneumonia at Temple University Hospital between 2020 and 2022. 
"We want to understand whether the incidence of a variety of different health conditions differ for those who were hospitalized for COVID-19 vs. non-COVID-related pneumonia and then determine who is most at risk for complications linked to a prior infection with SARS-CoV-2, the virus that causes COVID-19," Rudolph says. "The long COVID symptoms/conditions considered will range across the spectrum—respiratory, cardiovascular, depression/anxiety, neurologic, muscle pain and fatigue, gastrointestinal, renal, and those related to inflammation and activation of the immune response...We will first estimate the incidence of these complications in those who were hospitalized for COVID-19. Then, we will determine which conditions are more likely to be due to infection with SARS-CoV-2." 
The researchers also intend to identify risk factors for developing long COVID symptoms. 
"We will look at demographic factors, risk factors like obesity and smoking, and comorbidities," Rudolph says. "We will also consider factors associated with their hospitalization for COVID-19 that may either be risk factors or protective. How many days were they hospitalized? Were they in the ICU? Did they require oxygen? Did they require intubation or mechanical ventilation? Which treatments did they receive? These factors could potentially serve as indicators to identify COVID-19 patients that might be at increased risk for specific complications down the road and who may require more intensive follow-up. It can give us an idea of what we're looking at in terms of future rehabilitation needs and chronic disease burden stemming from a prior infection with SARS-CoV-2."
Battling booster hesitancy
Sarah Bauerle Bass, associate professor of social and behavioral sciences and director of the Risk Communication Laboratory, has conducted extensive research on COVID vaccine hesitancy and how messaging can be shaped to improve vaccine acceptance in different communities. Her study under the Catalytic Collaborative Funding Initiative will pivot to examine people who have been vaccinated for COVID but haven't received booster shots.
"We're trying to understand the potential ramifications of people who got on board with the initial vaccine but have resisted getting boosted, trying to understand that from a community level, in populations that have high health disparities like in Philadelphia," Bass says. The study will use a mix of research methods.
"We'll be doing interviews, followed by a larger survey in ZIP codes around Philadelphia that have had the hardest time with vaccination. We'll do some perceptual mapping and work around message development, concept testing with community members, and ultimately pilot a small communication intervention in one of the specific areas in Philadelphia," she explains.
Bass is teaming with Heather Gardiner, associate professor of social and behavioral sciences and director of the Office of Community-Engaged Research and Practice (CERP). CERP connects Temple researchers with community organizations, in this case to help identify individuals who have not received boosters. They will collaborate with Whitney Cabey, an emergency room doctor at Temple University Hospital and assistant professor in the Katz School of Medicine's Center for Urban Bioethics. Cabey has done qualitative work around vaccine hesitancy and health disparities.
"It's about booster hesitancy," Bass says, "but I think it's also a larger question of how people's perceptions of a pandemic change over time. And it has applications for things like flu and other diseases that might require a booster."
Helping vulnerable populations and frontline workers
Philip McCallion, director of the School of Social Work, and Lisa Ferretti, research assistant professor of social work, are collaborating with Temple's Institute on Disabilities in the College of Education and Human Development to study COVID's impact on vulnerable populations and the workforce that provides services for them.
"We're particularly interested in older adults in nursing homes, people with developmental disabilities, people with physical disabilities, and the staff who have cared for them," McCallion says. "Those workers don't have the option to work from home. They have needed to keep coming in. And there's a fair amount of evidence that there was a lot of cross infection from that."
For the vulnerable populations, the researchers plan to examine what the pandemic has meant for their social networks and management of their healthcare concerns, and for conditions such as loneliness and depression. They will also pilot test an intervention to improve social engagement and self-management of health conditions for at-risk older adults living independently.
Sally Gould-Taylor, executive director of the Institute, says it has successfully collaborated with McCallion and Ferretti in the past. "The Institute has been working with, and for, people with disabilities for decades. This project and its outcome will certainly have a significant impact on our most vulnerable community members," she says.
The researchers also aim to establish protocols and new interventions for nursing homes, out of home placements, and caregiver-supported care that can reduce infection of direct support professionals.
"We're hoping to establish approaches that can decrease these negative effects in future pandemics," McCallion says. "We're in a world now where there are likely to be more pandemics. There are lessons to be learned from the last couple of years."
McCallion thinks that the nurturing of cross-disciplinary research makes the Catalytic Collaborative Funding Initiative an especially valuable investment for Temple.
"We're all recognizing the value of interdisciplinary approaches to research questions. And national funders are increasingly expecting interdisciplinary approaches," he says. "To be successful, you don't put together the team the day you apply for the grant. You've got to have experience working together, understanding what each discipline brings. For us, a really important part of this is building up the collaboration between the School of Social Work and the Institute on Disabilities. This is helping us to develop a defined research agenda together."