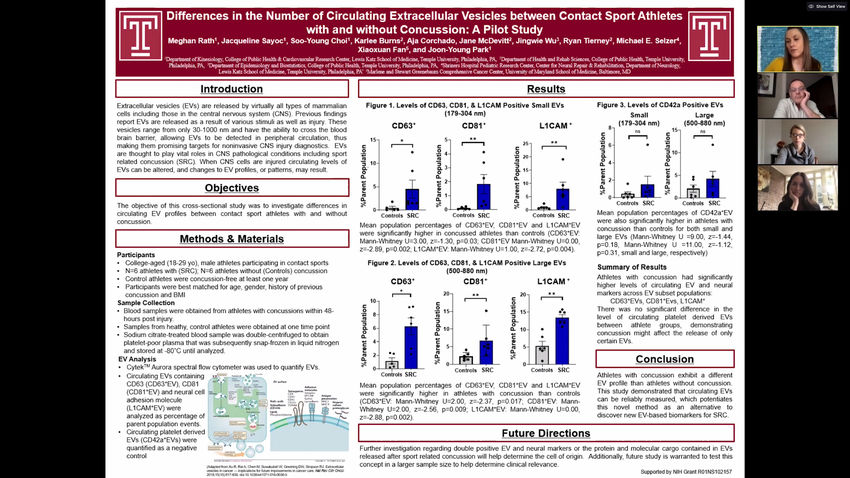 More than 100 students logged in via video on April 3 to describe their research and scholarly projects for the College of Public Health's annual Research and Evidence Based Practice Day. The event is a showcase of yearlong projects by the college's undergraduate and graduate students and is designed to give them valuable experience in setting up public health projects and presenting the results to others.  
Under normal circumstances, the day is an energetic in-person gathering, with aisles of posters and students describing the work. This year, undergraduate and graduate student presenters, faculty judges and advisors, members of the university community, families and friends joined in from their homes via video conference. The students rose to the challenge with polished presentations.
"I was impressed at how smoothly this went and how natural most of the presenters appeared to be in this format. It's like they'd been doing this for years," said Edwin Maas, associate professor of communication sciences and disorders, one of the faculty judges.
Making an impression via video is likely to be a valuable career skill in itself.
"It's different for sure," said Alecia Seliga, a Master of Public Health in Epidemiology and Biostatistics student. She presented results of her project examining factors that influence homeowners' attitudes toward potential contamination of private wells they use for drinking water. Seliga received a Graduate Meritorious Poster Award for the work.
Laura A. Siminoff, Dean of the College of Public Health, noted that this year saw a record 120 submissions for the event, ranging across the public health spectrum. Student study areas included nursing care, nutrition, mental health, substance use, communication disorders, kinesiology, epidemiology, and other topics. The projects ranged in approach from interventions implemented with participants during the college year to new statistical analyses of available data.
"The event is an outstanding showcase of the research projects that our graduate and undergraduate students have undertaken over the past year," Siminoff said. "It's a great opportunity to bring our college's research community together and share in the accomplishments of our students."  She also gave special thanks to the college's IT department for making the busy online event work.
Madeline Dunne, a senior studying speech, language and hearing science, spoke on video about her project assembling a theater group for people with aphasia, a language disorder that can result in difficulty talking, writing and reading after a brain injury. The study extended work by the Philadelphia Aphasia Community at Temple (PACT) program, which utilizes a group therapy approach for people with aphasia to enhance communication skills in an interest-driven setting.
Dunne said after her presentation that she learned a great deal about how to create a successful research project.
"I got a lot of guidance from my research mentor, Dr. Gayle Dede, and connected with past Research and Evidence Based Practice Day participants to get their guidance on what goes into developing a poster, what the steps are to building an effective research project, and what would make a successful presentation." Dunne received an Undergraduate Meritorious Poster Award for her project.
"The College's Research and Evidence Based Practice Day is one of the keystone events of our programming for National Public Health Week," said David Sarwer, associate dean for research. "While the event typically allows us to come together as a community to celebrate the great work of our students, I was so very impressed with the abilities of our students to adapt to the virtual event. I also can't say enough about those who did outstanding work behind the scenes to make the day run smoothly. As a result, the event was a tremendous success."
Student awards
Academic departments were divided into three sessions during the day, with awards presented for each session:
Session 1: Health Services Administration and Policy,  Social and behavioral Sciences, Social Work
Dean's Award for Research Excellence: Patrick Kelly (Social and Behavioral Sciences)
Graduate Meritorious Poster Award: Hamlet Gasoyan (Health Services Administration and Policy)
Undergraduate Meritorious Poster Award: Astrid Uhl (Social Work)
Session 2: Epidemiology and Biostatistics, Nursing
Dean's Award for Research Excellence:  Morgan Zalot (Epidemiology and Biostatistics)
Graduate Meritorious Poster Award: Alecia Seliga (Epidemiology and Biostatistics)
Undergraduate Meritorious Poster Award: Aurora Trainor (Epidemiology and Biostatistics)
Session 3: Communication Sciences and Disorders, Health and Rehabilitation Sciences
Dean's Award for Research Excellence: Soon-Gook Hong (Kinesiology)
Graduate Meritorious Poster Award: Ryan Thomson (Kinesiology)
Undergraduate Meritorious Poster Award: Madeline Dunne (Communication Sciences and Disorders)