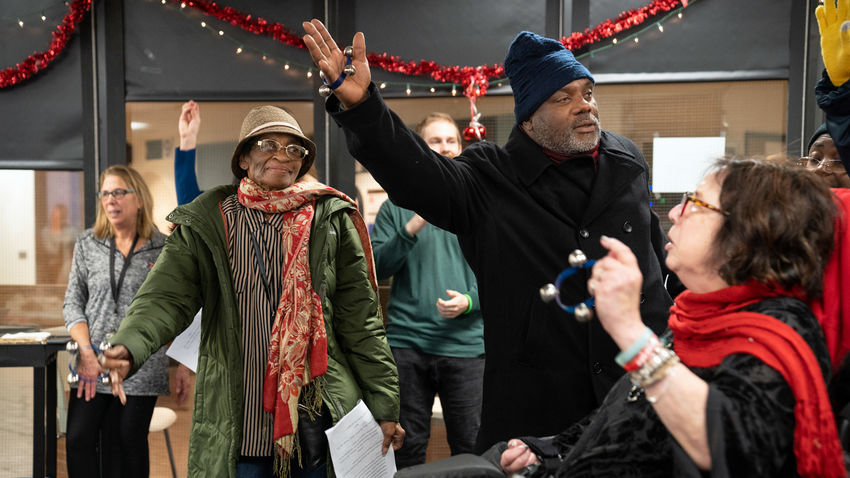 In a packed conference room inside Ritter Annex, snow was falling and laughter rang out as, one by one, a crowd of people dropped money into a bucket. Then, a chime. At the front of the room, someone says: "Every time a bell rings, an angel gets its wings." 
Soon after, a group of nearly 10 adults takes a bow as they finish their performance of the ending scene from Christmas classic It's a Wonderful Life.
The show was more than holiday entertainment: It was part of a new therapeutic theater group in PACT, the Philadelphia Aphasia Community at Temple. 
PACT provides persons with aphasia, a language impairment that affects production and comprehension of speech and language, the opportunity to enhance communication skills through programs in art, writing, music, and more. For the first time this year, participants also had the chance to take part in theater and improv classes, culminating in a performance this week at the Department of Communication Sciences and Disorders' holiday party. In addition to the mentioned scene (complete with props, including snow thrown from small cups), participants danced and sang "Walking in a Winter Wonderland."
"It gives people a way to leave behind their identity as someone with aphasia and explore a passion—new or old," said Maddy Dunne, the undergraduate speech, language, and hearing sciences student who started the theater group as part of a Diamond Research Scholar project. 
Theater participation helps build confidence and a stronger sense of self, said Dunne. The group was a team effort by PACT Director Gayle DeDe and professor Francine Kohen from the Department of Communication Sciences and Disorders; Rebecca Vernon from the Department of Health and Rehabilitation Sciences; speech, language and hearing science student Jamie Fanella; physical therapy students; and faculty from the School of Theater, Film and Media Arts.
The also provides a level of socialization that can offer benefits for persons affected by aphasia. Most often caused by stroke, aphasia affects around one million people in the US, according to the National Aphasia Association. PACT groups help participants build communication ability and reduce social isolation in a supportive environment while providing students the chance to gain hands-on experience working with adults with aphasia. 
"It's been an incredible opportunity," said Dunne. "At the beginning of the semester, you could see everyone not really buying into it. But then, over time, you can see in their reactions that everyone is accepting and that there's no judgment. We're laughing all the time."