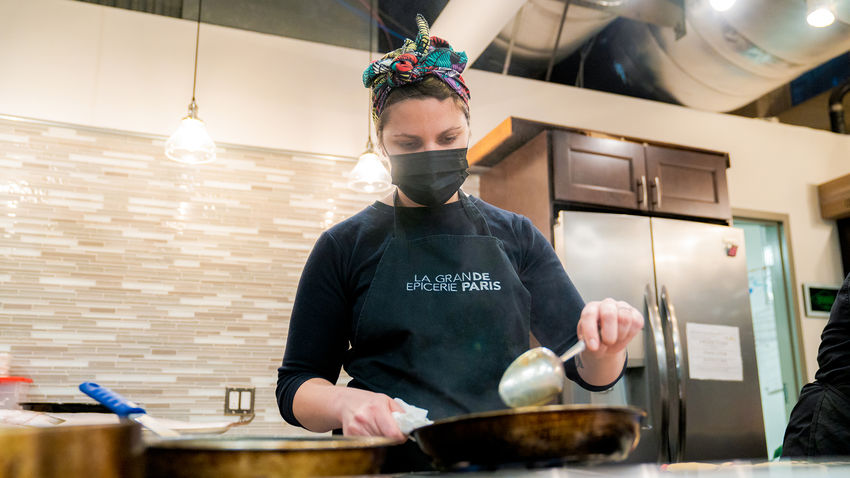 Chef Lisa Lombo grabs the whole, uncooked chicken with both hands and shows the students in her Food Preparation and Management class how to divide it into parts. Separating the drumsticks is hands-on work.  
"Once you hear that snap, it allows the knife to cut right through it," advises Lombo, who has been an executive chef at trendy Philadelphia restaurants and now plans menus for large institutions. Her students, each with a bird at their test kitchen workstations, put down their knives and imitate the bone-snapping technique. 
This class session focuses on proteins, so students also learn how to break down a 24-inch Norwegian salmon, butcher a beef tenderloin into meal-sized filets, and poach eggs efficiently (the secret is swirling the water and having eggs that aren't cold).
It really isn't a cooking class, though. It's one of many components of the College of Public Health's new master of public health (MPH) in nutrition degree program, in which students study food and nutrition with a public health lens. Other courses in the program cover cultural and community nutrition, nutrition education and counseling, epidemiology and biostatistics, and program planning, theory and practice. This food preparation lab explores the economics of recipes and menu development that will help the students plan for large organizations.  
"These students are going to be nutrition professionals, going into hospitals, running food banks, working in school systems," explains Mark Stoutenberg, chair of the college's Department of Kinesiology, which houses the program. "We're not so much teaching them to be cooks. It's giving them the food preparation knowledge, so if they run a series of cafeterias, they understand the processes."
The innovative two-year program, which began in the fall of 2021, grants students an MPH degree and also prepares them to pass the rigorous, 2.5-hour Registered Dietitian exam. It's like a bar exam for nutritionists, and historically only about 60 to 70 percent of takers pass on the first try.
"In a way it's like a dual-degree program," says Brittany Johnson, who directs the MPH in nutrition program. Many programs prepare nutrition students to take the RD exam, she says. "We want our students to have that broader lens—how do we create policy, how do we help the public? We think we can make the biggest impact as dietitians at the community level."
The Food Preparation and Management class isn't the students' only hands-on experience. Each student will devote around 1,000 hours to internships over two years, the first year working in a clinical setting such as the Temple Health system, and the second year in a community nutrition organization.
"We're seeking students who want to impact public health nutrition, to help influence healthy food choices from a community health standpoint," Stoutenberg says.
The MPH program has partnerships for field placements with community organizations such as the Philabundance food bank; MANNA, which uses nutrition to improve health for people with illnesses; the Vetri Community Partnership, a nonprofit that provides nutrition education; and SNAP Education, which teaches people how to shop for and cook healthy meals. The program also partners with Philadelphia-based food services provider Aramark, which donates food. 
"We're thrilled about the launch of the program this past year," says David Sarwer, associate dean for research and director of the Center for Obesity Research and Education (CORE). "The program has great potential to fill an unmet need in the Philadelphia area and will ultimately be a great addition to the college's diverse portfolio of graduate programs."
The students in this inaugural class for the program come from varied backgrounds. Some studied nutrition as undergraduates, some didn't. 
"I was interested in the master's of public health and nutrition, that combo," says Amanda Johnson, whose undergraduate degree is in psychology. "Food plays such a huge role in public health. It can be such a preventative measure of chronic disease."
Back in the class kitchen, the cooking techniques Lombo demonstrates will help students make informed choices about ingredients, especially if economics may force them to make substitutions when they plan recipes. She gives inside tips about efficient food handling ("Once the food comes in the door, the clock is ticking. Time is money," she tells the class). She exposes students to invoices and yield sheets, which enable planners to calculate costs for recipes. The goal in institutional and public settings is to deliver tasty, healthful meals and minimize waste to get the most out of limited resources.
"You want to use every part of the chicken," she tells the class, and in this case, it's only partly a metaphor.
Categories