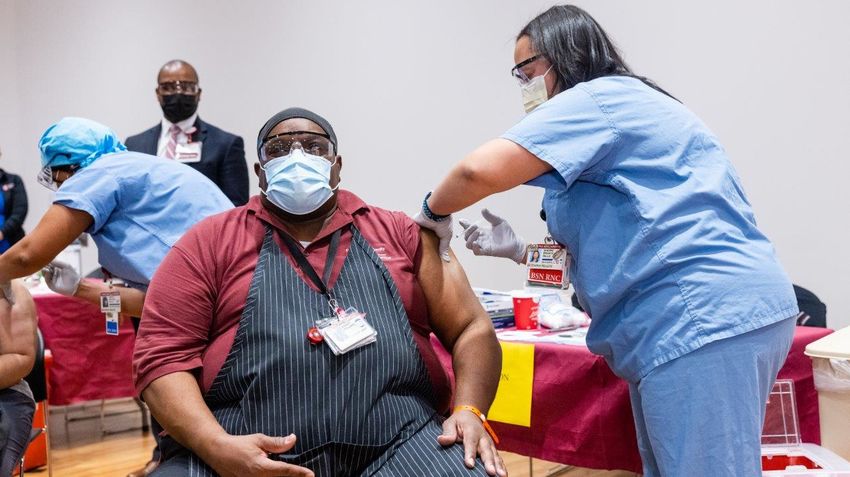 Photo courtesy of Temple University Health System. Photo credit: Daniel Burke Photo and Video.
Nursing students from the College of Public Health were among the first Philadelphia healthcare providers to deliver COVID vaccines when inoculations of the Pfizer/BioNTech vaccine began in the city on Wednesday, December 16.
Junior nursing students Madison Nesteruk, Dana Senour and Alondra Torregrossa joined Temple University Hospital registered nurses and CPH faculty members to assist in the vaccination of 250 front-line employees at the hospital. Temple received 1,950 doses of the vaccine in the first week of its availability, part of a batch of around 15,000 arriving in Philadelphia.
"To be there as a student nurse felt like being a part of history," said Torregrossa, who helped check in and screen recipients before taking her turn administering vaccines. The first shots aimed at ending the pandemic were a momentous enough occasion that they were administered on a stage in the hospital's Erny Auditorium, with local and national media, including The New York Times and The Washington Post, capturing the event. "I wasn't too nervous because I had a recently done flu shot clinic on the Health Sciences Campus," Torregrossa said. 
Dr. Tony S. Reed, chief medical officer at Temple University Health System, told the media that the day was like a "commencement… For graduations, it's about where do you go from here? That's what day one of the vaccination is," he said.
For Temple nursing students, it became part of their hands-on training. Joelle Hargraves, the Department of Nursing's undergraduate program director, says she sent a message to nursing juniors and seniors less than two days before the clinic, letting them know about the opportunity, "and 27 students volunteered overnight."  Each of the students will have an opportunity to assist. The students worked with Hargraves and adjunct clinical faculty members Shakay McClean and Malieka Young. 
"The opportunity for nursing students to participate was priceless," said Hargraves. "They eagerly volunteered to be part of an interprofessional team and witnessed how nurse leaders formulated and implemented a seamless plan for immunizing essential health care providers. "
Following federal guidelines on how to prioritize which workers would receive vaccines first, Temple Health had offered it to approximately 3,000 employees who meet "high risk" criteria, those whose work location puts them at risk of close contact with COVID-positive patients and those whose departmental COVID positivity rate has been higher than average.  
Categories