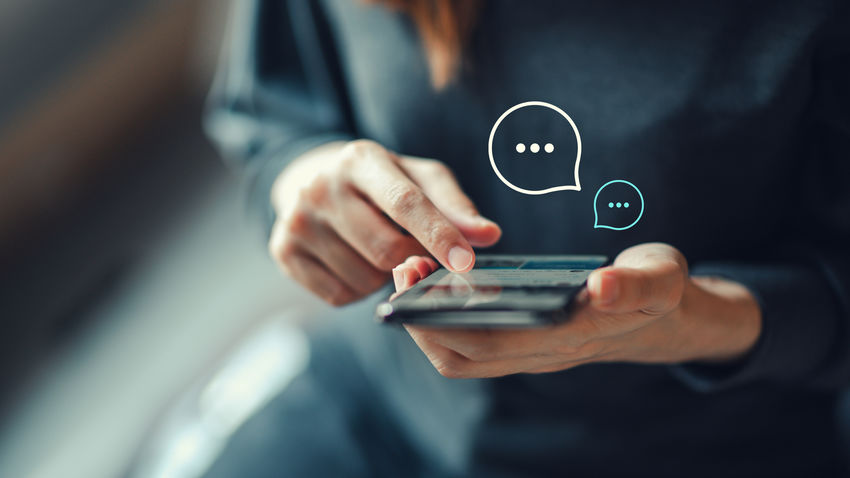 High-tech tools such as mobile phone apps can help people follow through on health recommendations, offering daily reminders and gamelike progress-tracking to help their behavior stay on course between doctor visits. But it's a mistake to believe that a totally automated solution works for everyone.
A new study by Stephen Lepore, chair and professor in the Department of Social and Behavioral Sciences, and Bradley Collins, professor of social and behavioral sciences, shows the benefit of a hybrid approach that combines a mobile health app for quitting smoking with targeted human support. Their research showed that "nudging from somebody that they trust" directly inspired some people to use the app more and derive more value from it.
"Sometimes we want to make technology the answer for everybody," says Lepore, who directs Temple's Social and Behavioral Health Interventions Laboratory. "What we see is, often in lower income families with lots of stress and chaos in their life, that doesn't always easily translate. How can we take advantage of technology to reach people who typically are not going to see a therapist or counselor to change their behaviors? They might be willing to try something that's connected to their phone, respond to a text message, and benefit from gentle reminders."
Those gentle reminders from trained health counselors are known in the field as "supportive accountability," and the new study shows it can make a difference to supplement a helpful phone app.  The study, "Supportive Accountability and Mobile App Use in a Tobacco Control Intervention Targeting Low-Income Minority Mothers Who Smoke: Observational Study," was published in the journal JMIR mHealth and uHealth, which presents research on mobile health technology. 
Lepore and Collins have long studied smoking cessation programs in lower income populations, focusing on mothers of young children whose health can be severely impacted by household tobacco smoke.  Their new analysis uses data from their Babies Living Safe and Smokefree (BLiSS) trial targeting mothers who smoke and live in predominantly low-income and minority neighborhoods in Philadelphia. Mothers participating in the trial were given tutorials for using a modified version of QuitPal, a smoking cessation app that software developers William Killam and Barbara Barry created for the National Cancer Institute.

In the app, users make entries for each cigarette they smoke, picking from a list to note its location/context (such as "in the car," or "mealtime") and their mood before they smoked ("angry," "stressed," etc.).  A progress summary shows how well they are doing in quitting and how much money they have saved. The app regularly displays health facts and congratulations for hitting milestones and delivers custom tailored text messages.
Prior experience has shown that mobile apps for quitting smoking can be effective when people use them, but "app abandonment" is problematic. Hundreds of thousands of smokers download cessation apps every month, but research has shown that approximately one-fifth of smoking cessation apps are abandoned after one use, and over half within a month. Following through requires ongoing self-motivation and isn't always a priority. 
"A lot of the participants in our study are single moms, and having a smoke is like a timeout from the kids," Lepore says.
That's where the "supportive accountability" enters—here in the form of phone calls from health counselors.  The counselors were able to examine dashboards of results for each participant, seeing whether they were keeping up with usage, then being able to focus on meaningful issues.
"A large part of counseling around smoking cessation starts with identifying your triggers. Is it with the first cup of coffee in the morning? When you have an argument with your spouse?" Lepore explains. "If you're smoking half a pack a day, maybe you don't always know where and when and why it tends to happen. So you start figuring it out, and you can start to sensitize the person to what their triggers are.  Then you can give a really tailored intervention."
In the analysis, participants used the app a greater proportion of the days following counselor advice than they did in the days preceding it. Smokers with no plan to quit boosted their use of the app after counselor calls to a higher degree than those who had intentions to quit smoking, suggesting that the telephone coaching most influenced those with the least motivation.
"One of the big predictions of the supportive accountability model is that the people who are going to benefit the most are those who are lower in motivation. And it came out beautifully," Lepore says. "The people who weren't really planning to quit, they benefited the most."
There remain technical barriers in low-income populations,  Lepore notes. "People are sharing phones, there are service interruptions, they run out of minutes," he says. It's important to be able to understand those issues in addition to the health coaching. 
"Apps are great, but only if people use them," Lepore says. "What's great about this kind of program is that it translates to what exists."  Most states already offer free telephone cigarette quitlines, and some quitlines are combining mobile apps with phone counseling. "But what's the best way to do that?  What we're trying to say is: you may have a great app, but if you want to use it successfully in this population, here's what you need to know."