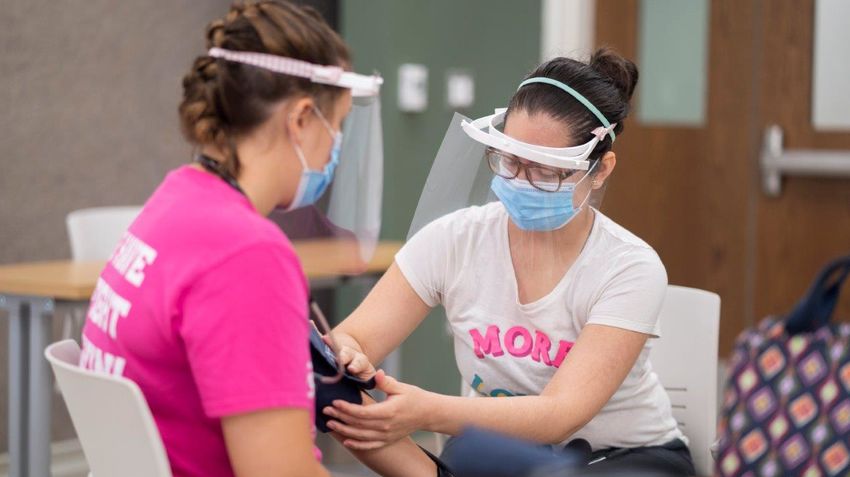 Summer lab sessions for Human Dynamics in Occupational Therapy, a first-year graduate course, demonstrated how essential classes—those where educational objectives can't be fully met online, such as hands-on clinical courses—can safely blend in-person instruction with stay-home online lectures. Students wore surgical masks and plastic face shields. They fanned out into four classrooms to avoid crowding together.  
"Luckily, we have the whole first floor of STAR [the Aramark Student Training and Recreation Complex]," says Kimberly Gargin, interim program director for occupational therapy, who teaches the course. "Splitting 60 students into the four rooms allows us to practice social distancing and keep to all of the guidelines the university has set for room capacities."
In the hybrid class during the Summer 2 semester, 60 students logged in via videoconference for six weekly lecture hours. But hands-on training remains a vital part of what occupational therapists need.
"The students need to learn the correct biomechanics, so that they're not injuring themselves when they start working with patients. We really need to be there to demonstrate, 'this is how you bend your knees and not your back, and you lift here on the patient, and you have them put their hands here, and you set up everything this way.'"
In a July class (see gallery), students learned about working with clients on transfers from one position to another, actions like wheelchair transfers, toilet transfers and bed mobility. They practiced taking vital signs such as blood pressure, heart rate, and respiratory rate. Students worked in pairs, with the same partners rather than a mixture of classmates, to minimize contact between students. Whenever they came within six feet of one another, they made sure their shields were in place. Wearing protective equipment while working with clients may be part of real-life work, so it's useful training, Gargin says.
"We need that in-person environment, using real equipment at the school and practicing on each other. Then we're confident to go out on fieldwork with patients," says Gabrielle Savidge, one of the students. 
The online lectures are live and interactive, not prerecorded, so students can ask questions as in a physical class. Guest lecturers have joined to share perspectives, and students have occasionally split into breakout groups that allow them to collaborate and meet classmates, says Kim Mueller, another student. 
"I think it also helps us gain 'virtual' skills," she adds. "We can apply what we've been learning about using Zoom in OT for situations where we do need to work virtually in the future as occupational therapists." 
Hybrid classes that combine remote learning with in-class instruction are an adjustment that may be part of the near-term future for many students and professors.
"I think it opens more minds than probably were open to online learning before," Gargin says. "And it shows we can be smart about hands-on training where it's really needed."