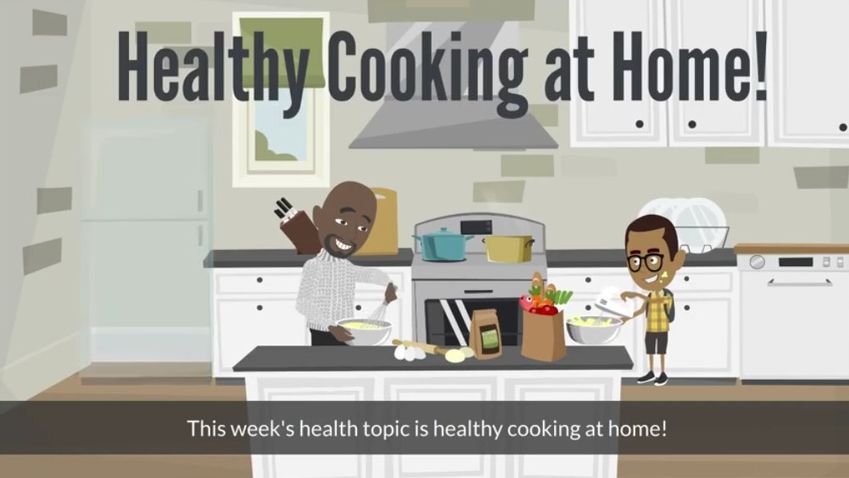 Credit: iByte4Health
"High-tech" solutions to broad public health issues don't always need the most advanced technology. Sometimes a simple approach meets the community's needs best.
A team at the College of Public Health has won the grand prize in a competition aimed at using technology to combat childhood obesity. The winning project, iByte4Health, sends daily mobile-phone text messages and video links to parents.
"We thought, people are on their phones all the time. Text messaging is a really easy way to reach people," says Gina Tripicchio, assistant professor in the Department of Social and Behavioral Sciences, who led the prize-winning team. "Other teams were developing phone apps, but we know a lot of people don't really like apps, so we started with messaging and really built it out."
The U.S. Health Resources & Services Administration (HRSA) launched the "Preventing Childhood Obesity" contest to inspire "innovative, technology-based solutions" to help low-income families sustain healthy eating practice. Temple team's won the $125,000 grand prize after garnering other funding awards in earlier phases of the competition.
Since 1980, childhood obesity rates for 2- to 19-year-olds have tripled, according to HRSA, with rates of obesity in 6- to 11-year-olds more than doubling, and rates of obesity in 12- to 19-year-olds quadrupling. The HRSA's Maternal and Child Health Bureau launched the Preventing Childhood Obesity challenge in 2018, noting that "while existing apps and tools address individual behaviors, such as exercise and nutrition, their uptake in underserved communities is limited because they are not tailored to the needs, challenges and barriers to healthy weight in these communities."  
Separately, Tripicchio and others in Temple's Center for Obesity Research and Education (CORE) already had been hearing from care providers they work with about the need for approaches to obesity risk and healthy eating.
"Our pediatric primary care providers came to us and said, 'We have an obesity problem. We really want solutions that we can offer to our families,'" she says. "A lot of parents have challenges around feeding their kids. It's not always about weight status. They're interested in learning how to improve the health of their children."
The HRSA contest rolled out in three phases, each ending with prize money divided among projects selected to continue development. The Temple team's strong proposal in 2018 made it one of ten $10,000 winners in the first phase. After its pitch explaining the project's development in more detail to HRSA officials, Temple was one of five second-phase winners, receiving $25,000 to build out the platform and the content based designed to encourage and inspire health eating.  The $125,000 grand prize will fund further development.
"All the phase one and two work informed the research," Tripicchio explains. "We talked to parents, to our behavioral health counselors, trying to figure out what we want this to look like. Should we combine text with pictures and videos to address varying levels of literacy?  What are parents' key concerns?  Let's make those the topics of each of the videos." 
Now a fully functional interactive platform, iByte4Health is a six-week text messaging program focusing on obesity prevention. Parents and children are screened for obesity risk during well visits or other visits, and behavioral health counselors can connect them to the iByte4Health program.
Each week is a separate module based on a theme: snacking, physical activity, sleep, sugary drinks, fruits and vegetables, and cooking at home. The terms "obesity" and "overweight" aren't part of the messaging. Each week begins with a link to an animated video on YouTube, in which "Blueberry the Blue Jay" presents evidence-based information about the week's targeted health behavior. The illustrations are done by Anna Woolslager, now a graduate of the bachelor of science in public health program. In all, 13 Temple students have worked on the project over the three phases, including current students Kennedy Stoll and Madeline McGuire on the project's final phase. An outside tech firm developed the text-messaging platform.
Parents set goals related to each weekly theme, such as "cook one new recipe this week" or "add one fruit or vegetable to one snack." Daily text messages throughout the week add tips and information to support the week's goal and help parents troubleshoot common challenges. Some of the messaging is interactive, asking parents if they have met the goal yet and offering automated guidance tailored to their responses.
For the third phase, the system was pilot-tested by parents with children ages 2 to 9 in two Philadelphia pediatric care clinics. Overall, those families reported high acceptance of the program, along with signals for increasing children's physical activity, more parental monitoring of children's snacks, and less eating while watching TV. The aim is to have the platform iByte4Health become more widely adopted.
"It's been a small group of parents so far, but they loved the program," Tripicchio says. "They said it was helpful, and they were really engaged, which is the most important thing. If we can keep people engaged, there's potential for longer term behavior change and impact."