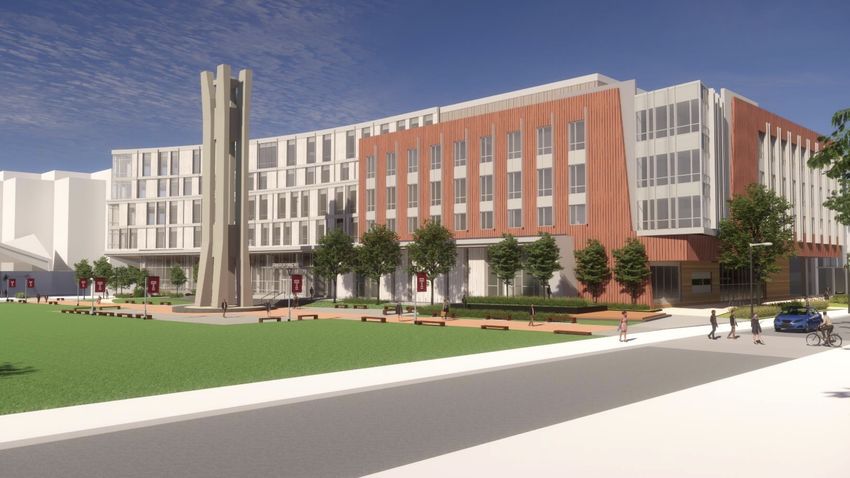 Courtesy of The S/L/A/M Collaborative.
Philadelphia Mayor Jim Kenney joined Temple University leaders, supporters and strategic planners in welcoming a new era for Temple's College of Public Health on April 3 at the groundbreaking ceremony for Paley Hall. The event also marked the launch of Public Health to Change the World, the campaign for the College of Public Health. 
Paley Hall, scheduled to open in the fall of 2025 on the site of the former Samuel L. Paley Library, will be a state-of-the-art home for the College of Public Health, its central location on Temple's campus reflecting the importance of public health education at the university, in Philadelphia, and globally. It will be the first unified home for the College of Public Health, whose diverse fields of study including nursing, social work, epidemiology and kinesiology have been spread across 12 buildings and two campuses.   
"Temple is one of the most important institutions in our city," Kenney said. "The development of a new, innovative space to advance public health within the college and across the campus and North Philadelphia is very, very exciting. We need creative ideas, like those generated from the College of Public Health, to get us to think differently and find solutions in unlikely places." 
The 306,000-square-foot facility will offer learning and collaboration spaces, training and simulation centers, meeting and study rooms, café areas, an expanded Social Services Annex for students, faculty and administration offices, and a Temple bookstore with a separate entrance. 
"This marks more than just the beginning of construction and renovation. It marks the start of a new chapter for the College of Public Health, one in which we will be able to fulfill our mission of embracing interprofessional education, practice and research in a single unified space," said Jennifer Ibrahim, interim dean of the College of Public Health. "This will be a space in which to learn with, and from, our local community members on how best to advance health in North Philadelphia and beyond, with cultural humility. Ranging from issues of violence, trauma, nutrition, obesity, addiction, social determinants, community inclusion, shared patient decision making, and social justice, we will work together to find solutions." 
"To have Temple University invest further in the North Philadelphia community, specifically, in this area of public health, is both needed and appreciated. And I say that as someone who was born and raised in North Philadelphia," said Ala Stanford, founder of the Black Doctors Consortium and former director of the Center for Minority Health and Health Disparities at Temple's Lewis Katz School of Medicine. "I am grateful that the College of Public Health is not just doing the research and the study, but they are acting. This community will greatly benefit from that." 
Paley Hall's design, by PZS Architects and S/L/A/M, will maintain the frame of the existing building but transform the interior and exterior. A fifth floor, as well as tiers of green roofs, will be added to the four-story structure. Concrete panels around the perimeter of the old building, initially designed to keep sunlight away from library materials, will be removed to allow natural light to flow into learning and meeting spaces, corner cafes, offices, and a 4,000 square foot atrium area with a wide staircase.  
The building will be LEED certified, for sustainable design and operation, and will be the first on Temple's campus to request WELL certification, for features that improve occupants' wellness such as ventilation, light, fitness and comfort.  
On Paley's ground floor, subdividable teaching space with modern instructional technology will allow for 230-person lectures or up to four separate classrooms. The first level will have a fully equipped teaching kitchen for nutrition and food preparation classes and community programs. 
Training centers on the second floor will include a simulated community and urban home, where students pursuing disciplines such as physical and occupational therapy can experience working with clients and patients in varied environments. The simulated community will include a simulated café and a small park environment with benches, green turf and curbs. A simulated row home will include a bedroom, bathroom, laundry room, kitchen and dining area. A bedside care skills lab will have inpatient rooms, beds and equipment to simulate a hospital environment. The Emergency Medical Services Skill Lab, for the college's new EMT program, will include a simulated ambulance.  
More than 4,000 students are pursuing undergraduate, graduate and doctoral degrees in the College of Public Health. Areas of study include Communication Sciences and Disorders, Epidemiology and Biostatistics, Health and Rehabilitation Sciences, Health Services Administration and Policy, Kinesiology, Nursing, Social and Behavioral Sciences, and Social Work.  The college has 60 research centers and labs and approximately 165 full-time faculty members, with nearly $70 million in active research grants.  Seven College of Public Health faculty members have been named among the top 2% of researchers in the world, according to a 2021 study by Elsevier and Stanford University. 
The Paley Hall building, originally designed by Temple's campus master planners Nolen & Swinburne, opened as the university's main library in October 1966.  It is named for the late Samuel L. Paley, a Philadelphia philanthropist and father of former CBS chief executive William Samuel Paley. In 2019, Temple transferred 1.8 million books from the Paley building to Temple's new Charles Library on Polett Walk. 
Categories