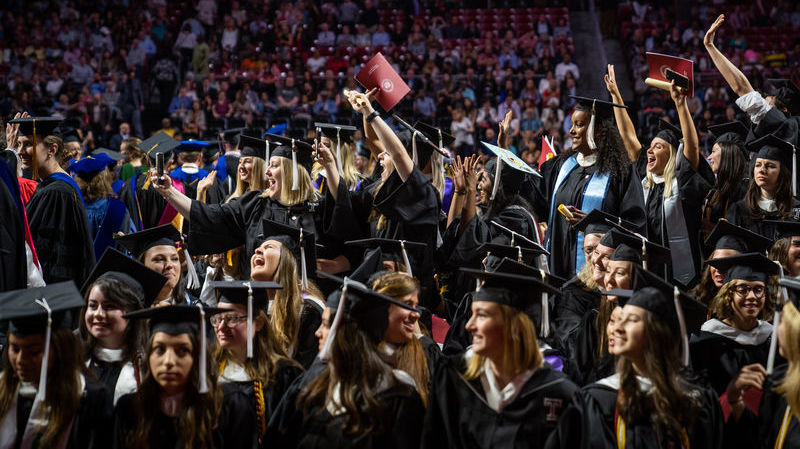 On Friday, May 10, eight hundred undergraduate and 389 graduate students in the College of Public Health and the School of Social Work, representing more than 40 degree programs, received their bachelor's, master's, and doctoral degrees at the 53rd College of Public Health Graduation Ceremony in the Liacouras Center. The ceremony followed the university commencement ceremony the previous day, which recognized Temple's largest graduating class in history.
In her opening remarks, College of Public Health Dean Laura A. Siminoff reminded the graduates that, no matter their field of study or next steps, they are united in their dedication to improving the wellbeing of others and reducing health disparities. She emphasized the importance of learning in a environment that spans disciplines, encouraging the graduates to approach their work as part of collaborative, interprofessional healthcare teams.
"Regardless of your degree, your program has required you to invest much hard work," said Dean Siminoff. "But your intelligence, commitment and desire to help others has carried you through to this point. These are qualities that all of you share, and they will enable you to make positive change around you."
Valerie Arkoosh, chair of the Montgomery County Board of Commissioners, delivered the keynote address. She spoke of her experience as a physician, health advocate and public servant, urging students to seek preventive solutions, focus on equity over equality, and always keep in mind the existence of health disparities.
"I know that each of you will use the unique talents and skills that you possess to build successful careers, but I urge you to never lose sight of the needs of our community as a whole," she said. "Working together, we can create an inclusive, respectful, and healthy community. These changes won't happen overnight. It's a journey."
Student speaker Laura Baehr, who received her doctor of physical therapy during the ceremony, spoke to her classmates' role in addressing the biggest health issues of their time, such as access to healthcare and mental health services, substance abuse and poor nutrition. Noting the range of disciplines represented in the Class of 2019, she called on her fellow graduates to work together to tackle these challenges.
"These are honorable but lofty goals that cannot be solved simply and perhaps seem insurmountable," said Baehr. "But if we return to our understanding of public health, of the science and art of keeping people well as a community responsibility, then we know that our work by definition is interdisciplinary. This means that our greatest strength is each other…We should be compelled to challenge the boundaries of our specialties and look beyond the silos of our professions in order to dynamically improve the lives of individuals, communities and the world."
Categories