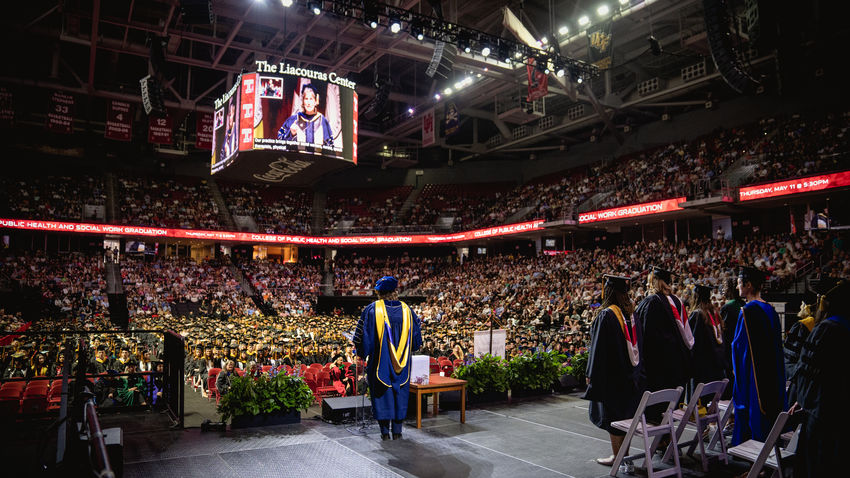 On Thursday, May 11, more than 1,400 undergraduate and graduate students in the College of Public Health and the School of Social Work, representing more than 25 degree programs, received their bachelor's, master's and doctoral degrees at the 57th College of Public Health graduation ceremony, following the university Commencement earlier that day, which officially conferred degrees on the nearly 10,000 students in Temple's Class of 2023. 
In her opening remarks, College of Public Health Interim Dean Jennifer Ibrahim reminded students of their resilience and perseverance as they met the challenges brought on by the COVID-19 pandemic. 
"You joined our staff and faculty to help vaccinate our Temple and North Philadelphia community or to be contact tracers to minimize the spread of disease," said Ibrahim. "You engaged in service to the community through pro bono clinical work, community homes, food and clothing drives, and health education initiatives. You advocated for change to address discrimination and social injustice. You did this because that is what the world needed you to do."
Graduation speaker Dr. Kendra McDow, school system medical officer for the School District of Philadelphia, commended graduates on their passion for serving others. 
"I charge you to go out and S.E.R.V.E.: Seek out purpose, explore your options, reflect on your impact, value your origin story, and embrace change along your life's journey," she said. "As we leave here today, let's lean fully into the one force that binds us, connects us and unites us: our passion to help, to uplift and ultimately to serve humanity."
In the student address, Theresa Tellez, a bachelor of science in public health student also pursuing a master of public health in epidemiology, looked to the future as she reminded graduates of their path ahead. 
"We recognize that disparities that exist in our society and our personal experiences as well as the knowledge we've earned from Temple have given us a wildfire-like passion to make a better tomorrow," she said. "It is now up to us to give back to our communities, both locally and globally, with our passion."
View the ceremony recording below or on the college's YouTube page. 
Categories