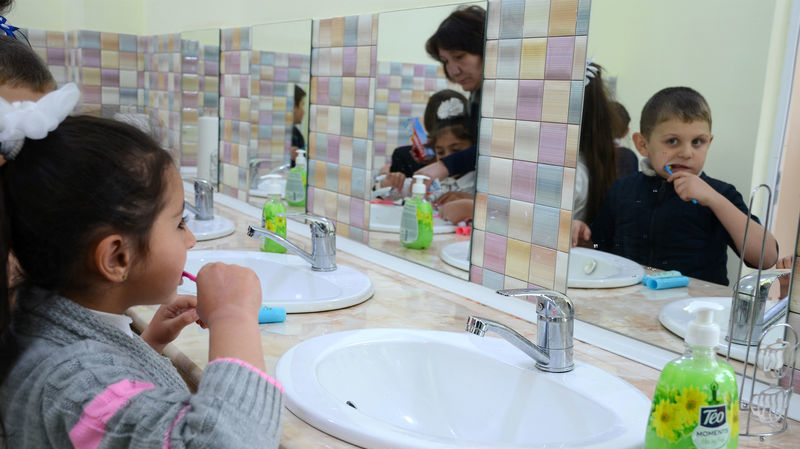 Children of Armenia Fund
Before Hamlet Gasoyan joined the College of Public Health as a doctoral student, he was a practicing dentist. Though his doctoral research focuses on insurance benefit design and the benefits of bariatric surgery, he hasn't left dental health behind.
Gasoyan recently documented the benefits of a program that delivers dental care to rural villages of his native Armenia. His analysis determined that the program, which helps elementary school children develop the habit of brushing their teeth regularly, reduced the prevalence of cavities by 30 percent, making a significant impact on children whose homes often don't have running water. The findings were published in Frontiers in Public Health in August.
"There's abundant research that connects dental health to serious health problems, nutrition, and even performance in school," said Gasoyan. "If you have a toothache, it's harder to pay attention in class."
The dental care program began in 2013, when pediatric dentist Denise Klatchoian brought the idea of school-based toothbrushing stations to the nonprofit Children of Armenia Fund. Along with Robert Bagramian, an alumnus of the Maurice H. Kornberg School of Dentistry at Temple, they set up colorful toothbrushing rooms called "Brushadromes" adjacent to cafeterias in 14 schools in nine Armenian villages. Children ages 6 to 11 were given their own brushes and fluoride toothpaste and instructed on proper technique. After lunches, a nurse or teacher would lead them in brushing sessions designed to be effective and fun.
Gasoyan, a visiting scientist at Yerevan State Medical University, worked with Yerevan student Armen Safaryan to measure the results as part of Safaryan's master's project. Safaryan performed dental exams of children in two randomly selected villages where the program was implemented to see whether incidence of cavities had changed since 2013. Gasoyan helped interpret the data and published the results with co-authors Safaryan, Bagramian, Luise Sahakyan, Nairuhi Gasoyan, and William E. Aaronson, associate professor in the Department of Health Services Administration and Policy.  
Documenting the results gets the word out to policymakers, donors, and the wider research community, said Gasoyan.

"It tells them that programs like this work," he said. "Our audience is within Armenia but also throughout the world. It's a simple, easy-to-implement program that could be replicated in other resource-limited settings. Programs like this that work on prevention rather than treatment are the future of public health, and the simplicity is the most attractive part." 
Gasoyan feels the dental care study connects to his academic path. The success of the program in Armenia offers a lesson in public health more broadly, he says. It shows that an inexpensive public health intervention, with limited resources, can produce results in a rural setting where people don't have much access to specialized care.
"You always think it's very expensive to produce clinically significant results. We think of innovation as complex or resource-heavy or technology-related," he says. "But innovation can be simple and cheap."
Categories