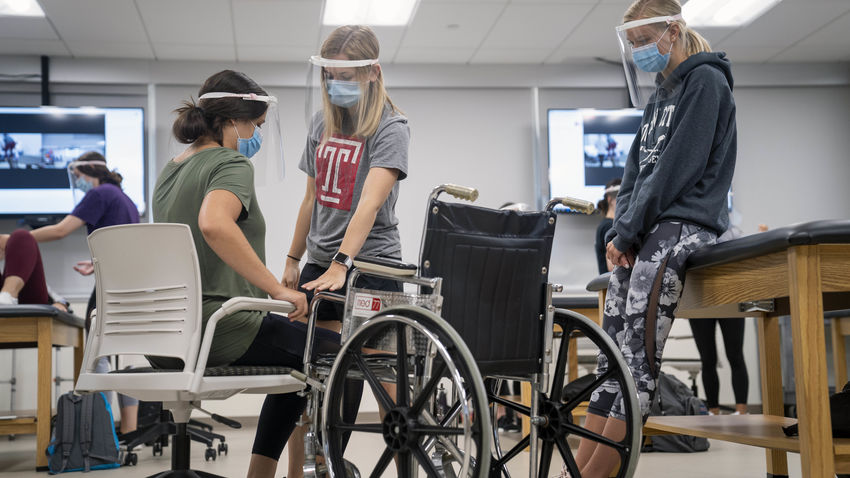 The College of Public Health is enrolling its first class in the entry-level doctoral program (eOTD) in occupational therapy, offering students a new way to receive an advanced degree through Temple's nationally ranked OT program, which recently celebrated 50 years educating practitioners and research leaders. The eOTD program begins classes in the summer of 2022 and is accepting applications through February.  
 "Our evolution to this degree program makes so much sense," said Kim Gargin, associate professor of instruction in health and rehabilitation sciences and director of the OT program. "It meets the needs and expectations of students now entering the profession, and it keeps the College of Public Health competitive with any graduate OT program in the country." 
Temple's occupational therapy program is ranked 23rd in the United States by US News & World Report. Temple has the only eOTD program in the region situated in a College of Public Health, enabling cross-disciplinary study. It also is the only OT program in Philadelphia at an R1 Research University, designating the highest level of research activity, so the eOTD program offers students expansive opportunities to prepare for clinical leadership, research-informed clinical practice, teaching and other career paths.
"Temple OT graduates work in clinics and they own private practices; they're professors across the country and deans at major universities," Gargin said. As part of the curriculum, students in the Temple College of Public Health eOTD program will additionally earn Teaching in Higher Education certificates, an asset to those seeking future opportunities in academia.
The College of Public Health's community-based curriculum offers students opportunities to learn while providing service to surrounding North Philadelphia neighborhoods. "We have partnerships with communities around Temple to get our students into the field right away. They can practice and implement skills they're learning in the classroom; make a difference working with people, populations and communities; and build capstone projects around their fieldwork," Gargin said.  
CHP's partnerships with community organizations allow students to benefit from unique service-learning opportunities.
"Students learn, and our partners benefit from our students' being involved. So it's a win-win," Gargin said. "Our hope is that with the doctoral program, we will be able to do a lot more program development with these organizations to support them even further." 
This fall, CPH OT students are working in mastery schools, childcare settings and alternative educational establishments throughout the Philadelphia region, helping out in classrooms and running groups. The eOTD students will be able to employ clinical and field experience like this to build the capstone projects required for the degree. "It helps students see what needs are out there, so they can focus their projects and pursue work that has real impact."
"Entry-level" means students do not need a prior master's degree to begin the doctoral program. Requirements are a bachelor's degree in any discipline and eight prerequisite classes: anatomy, physiology, physics, statistics, abnormal psychology, psychology, sociology or cultural anthropology, and lifespan development. The College of Public Health will continue to offer its post-professional OTD program for those who have master's degrees in occupational therapy.
Occupational therapy enables people of all ages to do the things they want and need to do in their daily lives, through therapeutic use of activities. OT practitioners work with individuals to prevent, recover from, and live their best lives possible with injury, illness or disability. Common OT interventions include helping children with disabilities participate fully in school and social situations, helping people recovering from injury to regain skills, and educating seniors on home and activity modifications to prevent falls and manage medications.
"Occupational therapy is more than just wanting to help people; it's helping them get back to what they were doing. It's promoting health and wellness to establish or resume roles they had prior to some sort of condition or diagnosis or life circumstance," Gargin explained. "It can be a return to the life that they had or want."
Categories