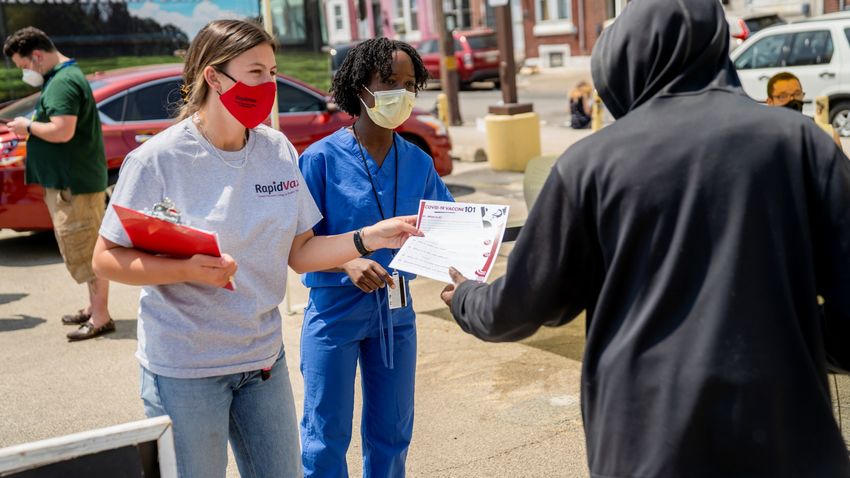 It was an almost-back-to-normal Saturday in the park in May, at Mander Playground in North Philadelphia's Strawberry Mansion neighborhood. Kids swung on swings and slurped water ice. A DJ played hip-hop as entrepreneurs sold wares at tables along the busy 33rd Street sidewalk—and a team of Temple faculty and students dispensed COVID-19 vaccines. Tyrone Williams, the outreach specialist for Strawberry Mansion Community Development Corp., paced the playground court with a wireless microphone, rallying his neighbors to get vaccinated and trying to dispel myths that were holding people back.
"We're coming for you, COVID. We're gonna rumble!" Williams shouted. "Rumors are getting people killed. 'I heard' is getting people killed. We need to get rid of the confusion."
A week earlier, Williams had gone on a talk show on the city radio station WURD-900 to promote the free vaccine event along with Sarah Bauerle Bass, a College of Public Health faculty member specializing in how public health messaging can reach varied audiences. Before that, Williams and Tonnetta Graham, president of the Strawberry Mansion group, had walked the site with Susan VonNessen-Scanlin, associate dean of clinical affairs and interprofessional education in the College of Public Health, as they planned logistics for streamlining the vaccination process outside the Mander recreation center building.
Flyers for the vaccine event were emailed and handed in person to hundreds of neighborhood residents. "No ID. No waiting. No hassle. No appointment needed," the flyers assured. Members of the community, including the ones giving out pretzels and water ice, were prepped to answer questions and point people in the right direction. Public health students from Bass's Risk Communication Lab greeted visitors, asked them if they'd been vaccinated, and directed those interested toward the vaccine pavilion area. Dozens of people got their shots that Saturday, delivered by professors from Temple's School of Pharmacy and by VonNessen-Scanlin, who is a nurse practitioner.
"We're getting a lot of the people who looked and watched and waited to see what was going to happen," Graham said. "We're getting them vaccinated now." Vaccine day in Strawberry Mansion was just one piece of the College of Public Health's citywide push to reach residents in undervaccinated areas of Philadelphia. Beginning in January and stretching through summer, a multi-departmental team led by CPH administered thousands of vaccines. It began on campus with the university's own frontline workers, instructors and students. The campaign expanded to an extensive city-funded program that created vaccination days inside dozens of Philadelphia Housing Authority low-income residences, enabling senior citizens with mobility issues to receive vaccines right where they live, and helping the vaccine-hesitant in those locations feel comfortable moving past their uncertainty.
Then, under another City of Philadelphia grant, CPH partnered on community-based vaccine programs with more than a dozen organizations that deliver services in different parts of the city, including Strawberry Mansion Community Development Corp., Prevention Point Philadelphia, the Church of the Advocate, the Ahmadiyya Muslim Community, and the Indochinese American Council.
It was all designed to improve public health in the region by getting more people vaccinated. Epidemiologists estimated that reaching about 70 percent of the population with at least one vaccine would approach the kind of herd immunity that could keep COVID-19 case counts shrinking instead of growing. Thanks to persistent outreach by CPH and other organizations, Philadelphia did hit that milestone in June, even though just a few months earlier the city's vaccination rate had looked troublesome, below 50 percent. Data was showing that Black Americans, while disproportionately hit by COVID, were being vaccinated at rates well below white Americans, likely due to a mix of factors including access to care in some neighborhoods and historically rooted distrust of the medical system. No population-wide thresholds could be reached without those harder-to-reach individuals. So the challenge CPH took on was crucial: moving beyond the early recipients who had eagerly signed up and lined up, reaching the hesitant, the isolated and the underserved. The need to boost vaccination numbers became vital as spring and summer arrived. People were eager to return to pre-pandemic routines, even as COVID variants were on the way, potentially igniting new waves of pandemic. Social distancing and masking restrictions began to be lifted. Medical experts called it a race against time: vaccines versus the variants.
So it was with urgency that CPH partnered with community groups to figure out the best ways to inoculate harder-to-reach people across the city. In Strawberry Mansion, community organizers thought the best approach would be a spring celebration, a chance for neighbors to reunite after the long pandemic winter.
"We didn't want it to be like playing taps, all doom and gloom. We wanted it to be upbeat. Get vaccinated, have yourself some refreshments, listen to the music," Williams said as he oversaw the ceremonies on that Saturday in May. He was already thinking about a lively theme for the next vaccine day, four weeks later, when some people would return for their second doses.
"I'm thinking karaoke vaccines," he said.
Researchers in the College of Public Health had begun thinking about COVID-19 vaccines before they existed, as the pandemic raged in mid-2020.
In a study that would be published in Frontiers in Public Health, researchers led by Bass surveyed people in New York, Miami and San Francisco and saw early signs that hesitancy might become an obstacle when COVID-19 inoculations became available. Prior research into vaccine reluctance had focused mostly on parents' willingness to have their children vaccinated. The Bass study provided insight into what was ahead. COVID vaccine avoiders had lower education and income levels, were more likely to ignore COVID-19 news, and were less satisfied with their health and their access to healthcare.
One promising aspect of that study was that just 13 percent of respondents said they wouldn't get vaccinated at all. But by December, with vaccines a reality, national hesitancy had grown deeper. A Kaiser Foundation survey indicated 27 percent of the public saying they probably or definitely wouldn't get COVID-19 vaccines, even if they were free and deemed safe by scientists. That made it critical to reach and persuade as many of the undecideds as possible.
When the Pfizer-BioNTech vaccine became available in December, nursing students from the College of Public Health were among the first Philadelphia healthcare providers to deliver them. Student nurses, whose prior training included working in flu clinics, joined Temple University Hospital nurses and CPH faculty at the hospital to assist in vaccination of 250 front-line employees. Temple had received 1,950 doses of the vaccine in the first week of its availability, part of a batch of around 15,000 arriving in Philadelphia.
"To be there as a student nurse felt like being a part of history," said Allie Torregrossa, a nursing student who helped check in and screen recipients before taking her turn administering vaccines. Those first shots were a momentous enough occasion that they were administered on a stage in the hospital's Erny Auditorium, with local and national media, including The New York Times and The Washington Post, capturing the event.
In January and February of 2021, while most staff worked remotely, the college transformed its administrative offices into an improvised clinic. Nursing students and faculty vaccinated about 900 educators, front-line staff such as Temple police officers, and students with clinical placements in the community.
"It shows how we can get vaccines to large numbers of the public in spaces that are relatively modest, using experienced student trainees overseen and supplemented by faculty," Laura A. Siminoff, dean of the College of Public Health, said at the site.
By late February, the Federal Emergency Management Agency (FEMA) had set up a mass vaccination site at the Pennsylvania Convention Center in downtown Philadelphia, and the Black Doctors COVID-19 Consortium offered shots to seniors and other qualifying residents who lined up at the Liacouras Center. But CPH saw itself in a different role: going out into communities, accommodating people who weren't willing or able to travel to those large sites. That would reach thousands of people who might not be served otherwise and elevate vaccination totals in the city toward needed goals in ways that the centralized sites couldn't.
The on-campus clinics were an opportunity to road-test CPH's vaccine delivery protocol, labeled RapidVax, a set of practices designed to make getting vaccinated as obstacle-free as possible. VonNessen-Scanlin put the protocol together, combining her experience as a nurse practitioner with her business background, which includes an MBA from Penn State, time as CEO of Rutgers Community Health Center, and expertise in the kinds of process-improvement methodologies that businesses use. "I started thinking about the workflow," she explained. "What's most important in terms of safety and quality? How do we need to staff it so you've got quick throughput? We want to respect our consumers, not make them wait in lines. Give them a red carpet experience."
Siminoff, who coined the term RapidVax as a brand identity for the vaccine effort, recognized the College of Public Health's unique ability to mobilize a healthcare workforce that could hit the ground running.
"At Temple we have schools training nurses, social workers, epidemiologists, physicians, pharmacists, even athletic trainers who can give vaccines," she said. "Because the U.S. health system is so fractured, we have to use everything at our disposal to get the population vaccinated."
While the City of Philadelphia launched its "Vax Up, Philly!" advertising campaign to combat vaccine hesitancy, CPH complemented that effort by bringing its RapidVax approach into dozens of Philadelphia Housing Authority residences, up to three locations per day. The PHA work was all hands on deck, staffed by CPH students and faculty, pharmacy faculty and students, and PHA housing managers.
VonNessen-Scanlin herself would arrive at Temple University Hospital at 6:30 a.m. to begin most of those long days, picking up the day's allocation of vaccines. One Wednesday morning in April she picked up three boxes of Moderna vials, enough for 300 doses, and stowed them with ice packs in a soft black cooler bag. She'd return any unused vials to the hospital at day's end. Then she headed over to the Vaux Community Health Center in the Sharswood neighborhood to gather syringes, emergency boxes, Band-Aids, gloves, cotton balls, swabs, iPads for recordkeeping, and sharps disposal buckets.
"I have it down to a science," she said, loading the supplies into her car, before driving to set up well-organized vaccine pods in community rooms at three different PHA apartment complexes. One stop was Gladys B. Jacobs Manor, a midrise building with 80 units for older tenants. Recipients of second doses included 101-year-old Virginia Smith.
"It's so much more convenient for our seniors to have the vaccines right here. This is a blessing. They just come down on the elevator," said Judy Mitchell, vice president of the building's resident council.
"I waited and waited to get this because I'm not able to stand in those long lines you see on TV," said Betty Smith, another resident.
VonNessen-Scanlin felt Temple's persistence was starting to pay off. "You know, when we started this in February, there was a lot of hesitancy," she said. "Now that we're going back to sites, people are coming forward and saying, 'I wasn't ready when you came in the first time, but I want to be vaccinated.' So we're giving some first doses as well as the seconds."
At a North Philadelphia clinic, Raymond Wicks said he'd been putting off getting vaccinated "for quite a while," citing past experiences of African American men "with vaccinations like syphilis back in the day, experiments that they did at Holmesburg Prison back in the day." But he saw his family members take vaccines, "and they told me that I could take the Johnson & Johnson shot, and get it done in one day where I didn't have to come back. The convenience of it all, and being so happy to see people out after the last year that we had—I said, 'Well, I feel safe with it being through Temple University, and I thought, let me take a chance with it, you know?'"
But hesitancy and access issues remained. In April, Philadelphia's Department of Health indicated that approximately 345,000 of the city's 1.5 million residents were fully vaccinated. The FEMA Convention Center site made national news when 4,000 doses it had of the Pfizer vaccine nearly expired, unused. FEMA and the city initiated "street teams" at grocery stores and other locations encouraging people to get vaccinated. Soon organizations across the city were offering incentives. SEPTA offered its employees $100 for proof of vaccination. The Phillies offered game tickets. Krispy Kreme gave away donuts.
The need to understand and address underlying causes of the hesitancy was vital, and the College of Public Health received a grant from the city to do that. The college's Office of Community Engaged Research and Practice connected with some of Philadelphia's most prominent social service organizations in a program to custom-tailor vaccine events in their communities.
Each organization not only understands the concerns of the neighbors it serves, but it also has their trust, making it well positioned to inform and persuade the hesitant.
As part of the effort, Bass worked with the community groups on surveys to gather attitudes toward vaccines, with an eye toward creating messaging to address specific worries and counter misinformation. In a Zoom meeting, leaders from the community organizations expressed a variety of concerns. Groups representing immigrant communities, including those who are undocumented, said members might be concerned with how their names would be registered.
Some group leaders wanted to create and publicize special vaccine events; others wanted to piggyback on existing programs. Prevention Point Philadelphia, a harm reduction organization in the city's Kensington neighborhood, had been hosting a free lunch distribution called "Step Up to the Plate" that attracted close to 600 people a day since before the pandemic began.
"Adding vaccines to our meal program was a natural choice," said Jose Benitez, Prevention Point's executive director, who received his master of social work from Temple in 1989. "We told Temple, we already have a crowd. So let's just figure that out."
Soon after, vaccines were added to the menu at Prevention Point's boxed-lunch distribution, held in a Philadelphia Parking Authority lot in Kensington that is nicknamed the "Love Lot" as a locale for outdoor social services and art programs in the neighborhood. College of Public Health master's student Tarah Organtini and recent graduate Hanane Mohamed greeted visitors arriving for lunch: "Hello! Are you interested in getting vaccinated today?"
Some said yes; some said they'd already been vaccinated. Those who said no were offered a fact sheet explaining the vaccines and their side effects. Every touchpoint potentially helps sway the undecided. On the way to the food tables, a second group of students in gray RapidVax T-shirts asked people who were carrying flyers if they had any questions. Under a canopy beyond the food, Temple public health and pharmacy faculty and students registered people and administered vaccines.
"We needed a low threshold, so that no one feels like there are obstacles to get vaccinated," Benitez explained as he watched familiar faces arrive. "So you don't need an ID, you don't need an appointment, you don't need proof of address. You just show up and say, 'I want to get vaccinated.'"
Two elderly Vietnamese women who spoke little English were interested in receiving vaccines, and two of the Temple pharmacy students staffing the registration table, Maria Nguyen and Dalena Truong, answered questions in Vietnamese.
"She wanted to know if it hurts," Nguyen said. "And she didn't know it was just one shot with the Johnson & Johnson. She asked, 'Are you sure about that?'" The restored availability of the one-shot Johnson & Johnson vaccine was "hugely important" in the community that Prevention Point serves, Benitez said. The Kensington neighborhood has drawn national attention as the epicenter of the city's opioid crisis, and there is extensive homelessness.
"Given the population that we primarily serve, having one-and-done is so much easier logistically," Benitez said. "For our folks, sometimes there are no addresses. People are living on the street or in one of our shelters here who really need vaccinations."
Temple's RapidVax vaccine program would supplement the Love Lot lunch twice a week, offering hesitant people time to mull it over and come back later. Bass observed as several people who took lunch slipped away to the sidewalk, choosing not to head over to the vaccine area.
"That's okay," she said. "Maybe they will next week."
Categories