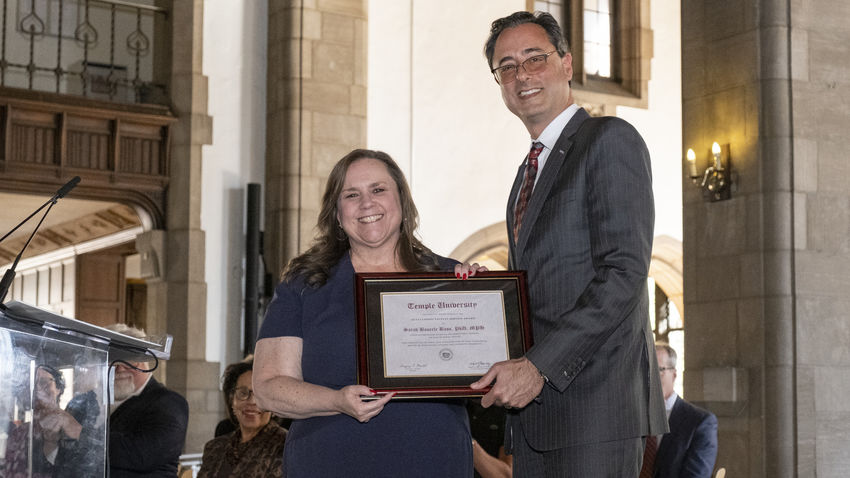 Sarah Bauerle Bass, associate professor of social and behavioral sciences, has been named a recipient of Temple University's Faculty Senate Outstanding Faculty Service Award.
Her 22 years of service to Temple has included mentoring of students at the undergraduate, master's and PhD levels; significant department, college and university service on committees, including chairing the Great Teacher Committee; serving as a national expert on undergraduate public health education for the Centers for Disease Control and Prevention and other national organizations; and serving as an expert reviewer or chair for many NIH study sections.
Most recently, she provided time and expertise to guide the university's, community's and nation's response to COVID-19 as an expert in risk communication, where she served on advisory committees for Temple University Hospital, Temple University, and the City of Philadelphia and served as an expert in national and international press, discussing COVID-19 risk communication efforts.
She also spearheaded a community-based communication campaign to combat vaccine hesitancy in high-risk areas of Philadelphia through the College of Public Health's RapidVax COVID-19 vaccination project.
She is a previous winner of both the Lindback Award and the Great Teacher Award at Temple, as well as a recipient of the Riegelman Award for undergraduate public health education from the American Association of Schools and Programs of Public Health and the Everett M. Rogers Award for Public Health Communication from the American Public Health Association.
As director of the college's Risk Communication Laboratory, Bass is also an active researcher, with studies funded by the NIH, national agencies, organizations, state and city agencies, and industry. Her research focuses on health and risk communication and how public health messages are crafted for diverse audiences to enhance decision-making. She has advanced the field of health communication by applying commercial marketing techniques to the development and testing of messages or interventions.
In addition to serving the university so selflessly over the past two decades, Bass is also Temple Made.
"Temple is my home," Bass says. "I've been here since I was in my 20s. I earned both my MPH and my PhD in public health here. Some people say they bleed cherry and white, and I believe that's true for me. It's pretty cool to be recognized with an award like this, that represents the culmination of over two decades of work and commitment to the university."
Professor and Department of Social and Behavioral Sciences Chair Stephen Lepore says Bass is very deserving of this honor. "For more than two decades, Sarah Bass has tirelessly devoted herself to the betterment of students and colleagues alike. Her selfless dedication to public health practice and education campaigns also has made a real impact on our community. During the COVID-19 crisis, Bass' engagement with the media and public education efforts informed people about how to respond to this global health threat. Her unwavering commitment to the college, university, and community serves as an inspiration to all of us. The department is immensely proud of her achievements."
Categories