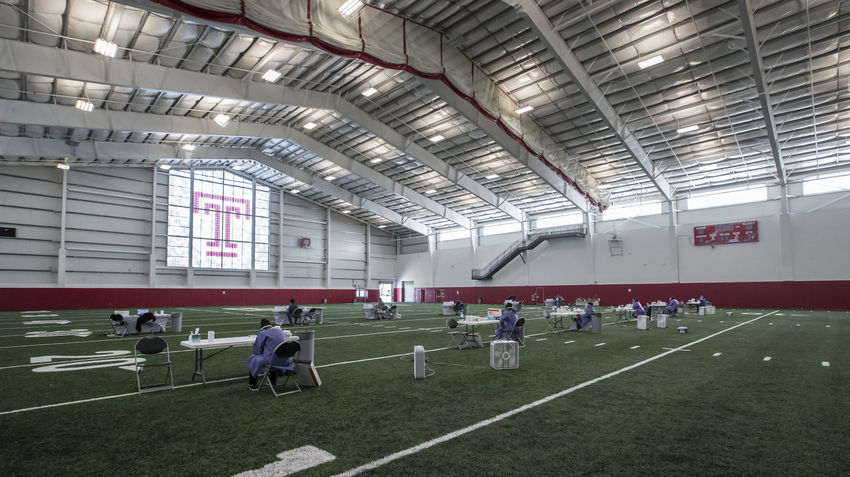 Krys Johnson, assistant professor of epidemiology and biostatistics at Temple's College of Public Health, has become a voice on the COVID pandemic. She also is a diehard sports fan—with the NFL season and some school sports around the country about to begin, we spoke with Johnson about the COVID containment strategies that professional sports leagues are taking and how their experiences might be instructive.
NBA players are together in a "bubble" in Orlando. Hockey players are semi-isolated in designated hotels and arenas in two Canadian cities. Major League Baseball has players traveling nationwide and living in their homes, and MLB teams including the Marlins and Cardinals have had large enough COVID-19 outbreaks that they have needed to cancel games. Is this a lesson for the NFL?
I think baseball is kind of our test subject for the NFL, because they tried to have what, I think, they called more 'reasonable' expectations of what would actually work for players, as people, for an extended period of time. I think what we saw, with the Marlins and then the Cardinals, is that going with something more relaxed like that is not really going to be helpful in reducing coronavirus. It does seem like, at least for the people that have violated quarantine rules, they may not be understanding how that can be particularly risky for professional sports players. It can have long-lasting effects on people's lung capacity and cardiovascular system. Those are things you need to have at peak for sports. Luckily, MLB seems to be taking it a little bit more seriously now. We have seen them tighten restrictions in response to the Marlins and the Cardinals incidences.
So I think the NFL should go ahead and start learning from—I don't want to say the errors that the MLB made, because I think they did all of this in good faith. They wanted to see how it worked out, and when they found it wasn't working, they pivoted. The NFL can learn from the MLB in that respect. They could maybe try a more proactive approach to making sure that players are staying safe. None of us really want that to be a bubble system. We still want people to be able to travel. But if the only way to preserve the season is to have this bubble system, then that may end up having to be the only way it works out. The NFL can also learn from the MLB's contact tracing procedures, building that out during what would have been the pre-season to make sure they're prepared once the season begins.
Have the bubbles been successful so far?
It has worked well for the NBA and NHL. We haven't really seen any slip-ups or people testing positive in these bubbles. When the NBA said that they were going to be in Orlando, I raised my eyebrows, but most everybody seems to have been doing what they're supposed to. It's working for the NHL and NBA, and now MLB, to say, if you're seen doing something you're not supposed to, you have to sit out until you have so many negative tests or for the full quarantine period. I think that really helps enforce the rules. Because, especially in the NHL, we're in the playoffs. You don't want to not be in the playoffs.
The NFL has come up with plastic face shields on the front of helmets that extend over players' mouths. But the league has made them optional for players to use, and some have said they won't.
That really shouldn't be optional, when you're arguably coming into close contact consistently for that three hour game period. Even if you think about it from a business perspective, we're invested in these players. The Buccaneers just signed Tom Brady, for instance, and they want Tom Brady to be able to do his thing—So we need to be protecting all of our players as if they are Tom Brady, because literally any player on the field could infect another player.
Is football riskier than baseball because it's a high contact sport?
Sure. With baseball, you're not tackling people. You're tagging them with the ball, throwing the ball from one person to the other. It's not putting your body on somebody. In football they're pushing towards each other, and breathing hard, because it takes effort to do that. That makes it an even higher risk. I think it's remarkable that the NHL has been able to continue to go through the playoffs as they have, because those guys are all over each other. Football teams are starting to do contact practices, and I think we'll learn a lot in the coming weeks.
The NBA has a reporting line where players can report violations of the bubble that gets derided as the "snitch line," and some players have bristled against that idea.
Nobody wants to have to tattle on anybody, but honestly, it's literally putting other people's lives at risk. And livelihoods. They might survive coronavirus but never have the same lung capacity or heart capacity and never be able to play the game, at least professionally, again.
Can the general public learn anything about COVID safety from the successful and unsuccessful approaches sports leagues have taken?
The CDC and local public health departments have been saying that we needed to create our own pods. We've been seeing people creating learning pods since a lot of schools are not opening, and that's essentially creating your own bubble. Maybe it's not just your family, but four like-minded families that are all doing what they're supposed to do, so their children can learn together. That's a bubble. You can all share childcare responsibilities. Even college students doing online learning, if they had their own study group that meets at the library, or one person's house, and they're all doing what they should, that kind of bubble would work as well.
Can school sports and athletes take anything from what the pro leagues are doing?
Fortunately for pro players, and unfortunately for college players and school students, the pros have unions who can advocate for their safety and require that they have certain protections, and come up with these bubble-type systems. College students don't have those protections, and neither do high schools. You may have a school in one county where masks are not worn widely, or even discouraged by local authorities. Then if you have a visiting team from that area, they are not wearing masks. 
In college football, the Big Ten and Pac-12 have postponed their fall seasons, but the SEC, the Southeastern Conference, at this point is planning to play. Unfortunately, the SEC is in an area where we're seeing a lot of increases in cases. So we're truly putting young players at risk who could have ten-year NFL careers ahead of them. It would be really helpful if the NCAA came out with across the board requirements to protect the health and well-being of these young athletes.
Some student athletes and parents are reluctant to cancel football over COVID, especially if the players are in their senior year...
I completely get that side of the equation. Kids have been looking forward to their senior year of high school, being the top guy on the team and going to their dream college based off of that, and now what do you do? In college, there are guys who stayed in, instead of leaving early for the draft, because they promised their mom they would get the degree, or they thought they would be a better pick If they had more time on the field to prove themselves. That's a really difficult thing to consider. But the NFL will figure out how they draft players. The college football folks are going to figure out how to adapt their recruiting. The flip side is, everyone is dealing with this in one way or another. So we're gonna have to figure out what our next steps are together.
Categories