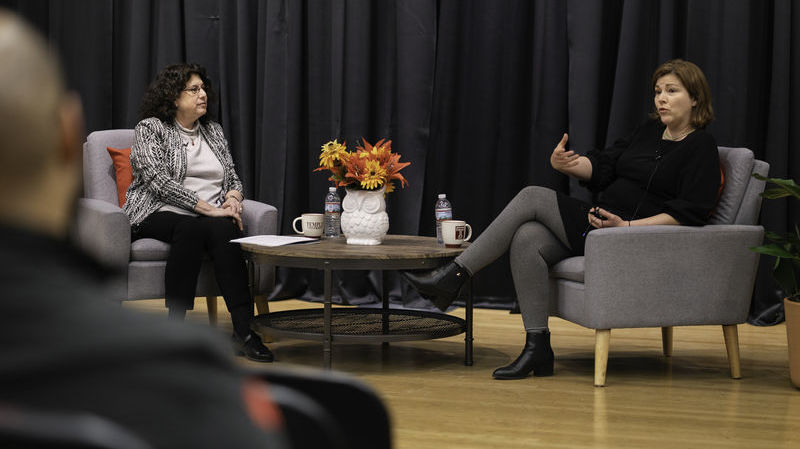 On April 2, the College of Public Health and Temple University community took part in a discussion between Dean Laura A. Siminoff and Maiken Scott, host of WHYY's The Pulse, a national health and science radio show that explores the human aspects of health and science. In a back-and-forth interview format, Siminoff and Scott discussed strategies for public health researchers and practitioners to connect with reporters and the general public, the differences between health care in the United States and Scott's native Germany, and public health trends in the Philadelphia region and around the world.
"In terms of health, there are all these different issues that come together," Scott said. "There's the issue of access to healthcare, the cost of healthcare, who pays for healthcare, and whether or not people trust their doctors and what people know about staying healthy."
Since 2013, The Pulse has reported on behavioral health in science in Philadelphia and beyond. It has grown to air on more than 50 public radio stations across the country, exploring topics such as the relationship between diets and climate change, how public trust in science has shifted over time, and the social and emotional costs of diabetes. Before hosting The Pulse, Scott worked as a reporter and producer at WHYY and has covered behavioral health for more than a decade. She received her Bachelor of Arts in Journalism from Klein College of Media and Communication and a Master of Arts in History from the College of Liberal Arts.
Categories