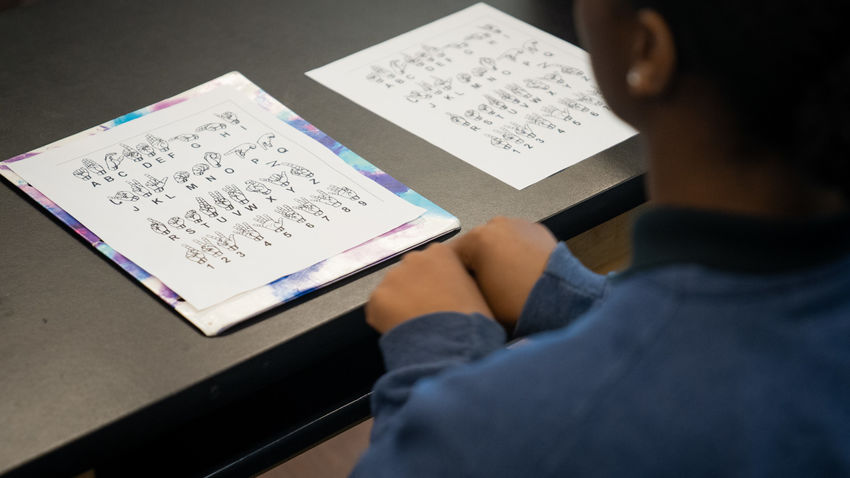 Extracurricular clubs are routine for the high-achieving students at George Washington Carver High School of Engineering and Science, a magnet school in Philadelphia. So it was impressive—but not unusual—to see around 20 students after school on a Monday afternoon learning American Sign Language.
The class is a partnership with the Department of Communication Sciences and Disorders in the College of Public Health. Three undergraduate students were volunteer instructors: two majoring in speech, language and hearing science, and one in psychology. The ASL instruction, interrupted along with other extracurricular activities as students were sent home due to the coronavirus pandemic, is slated to resume in the fall.
In a recent class before the stay-at-home orders, the three Temple students led the class through signs for the alphabet, then numbers up to 20, and ran through the words for family members and colors.
"Make sure your fingers are staying together," Temple junior Elizabeth D'Arcy told the students as they practiced the sign for "blue." D'Arcy, along with junior Meara Kuhfahl and senior Taylor Gallagher, displayed pictures from the Internet, showing children in colorful clothing, for the class to describe. Then it was on to signing what classmates were wearing. The Carver students, all girls who are part of the school's Women of Tomorrow mentoring program, chimed in enthusiastically.
"I have a question—how do you say 'scrunchie?'" one asked.
Soon, the Carver students were signing full sentences: "I see a girl wearing a white shirt with polka dots, a yellow skirt, and pink shoes, with curly brown hair."
Pat Logan, Carver's administrator of the Women of Tomorrow program, reached out to Temple to get the class started. Rena Krakow, associate professor and undergraduate program director in the Department of Communication Sciences and Disorders, connected Logan with Jonathan Hartmann, director of ASL and Deaf Culture Programming in the college. Hartmann, who is deaf, teaches upper-level ASL classes as well as American Deaf Culture and Medical ASL classes.
Students from a variety of fields take the classes, he said.  Speech, language and hearing students learn that ASL can be effective in helping hearing children who have delayed speech. 
"When kids are born with speech issues, research shows that it's important to be proficient with language before age five.  Sometimes we use sign language, even if a child is hearing, to develop language proficiency," Hartman said.
"Nursing students may have a deaf patient, and those patients are so happy that someone can talk to them," Hartmann added.
The Carver students considered the classes another way to expand their horizons.  
"I want to be able to connect with people who may not be able to see or hear," explained Guervely Thomas, a sophomore.
"We only have two languages in our school, Chinese and Spanish, and having ASL is a blessing," said Nina Zarwie, a Carver senior.
The awareness that the ASL program builds can lead to broad-minded thinking among students and foster inclusive attitudes.
"A few years ago, not many people were aware of what to do around a deaf person," Hartmann said. "But times are changing. When someone starts speaking, and I indicate that I'm deaf, they understand immediately. They might not know how to sign, but they might get a pen and write. Years ago, that didn't happen."