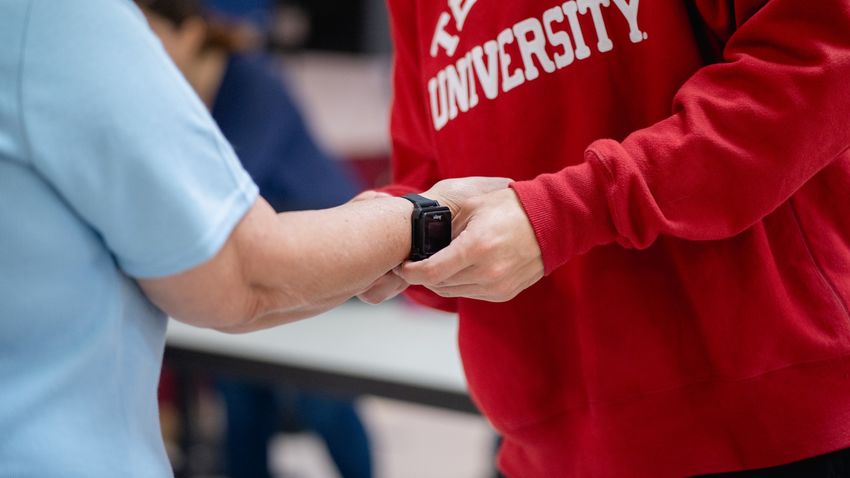 On a recent Tuesday, in between Medicare counseling and a low-impact Zumba Gold class, 20 older adults checked in at the Bristol Township Senior Center in nearby Bucks County to begin participating in a novel study aimed at helping seniors avoid harmful falls. Students and researchers from the College of Public Health's School of Social Work and Department of Health and Rehabilitation Sciences are collaborating with a team from Temple's Department of Electrical and Computer Engineering to deliver the program, which combines 12 weeks of physical activity programming with electronic data gathering to measure participants' physical activity and gait parameters. The aim is to see if increased physical activity leads to better stability and reduced falls.
"This is a great example of interprofessional research and education," said Philip McCallion, director of the School of Social Work. "Many of us in different disciplines are doing work in the area of falls and older adults, and we each have a contribution to make. When we collaborate, it gives us more ideas."
To give researchers baseline data as the study began, participants were fitted with wrist-worn devices containing accelerometers and gyroscopes. They then were asked to perform two tasks: a simple walk ten feet away from a table and back, and a Timed Up and Go assessment, which is a rise from a seated position to walk. During the simple walk, a radio-frequency device, bouncing signals off people the way a baseball radar gun works, captured their body movement. The signals produced colorful waveforms on a laptop screen representing each person's walking "signature," capturing their cadence and gait. Then for two weeks at the start and end of the study period, participants will wear a wrist-worn Fitbit-like accelerometer device at home, letting researchers see patterns in their overall physical activity.
"We're interested in looking at different parameters, such as stride rate, step size," said Fauzia Ahmad, associate professor of electrical and computer engineering, as participants did their walks. "We'll compare people's step size and other parameters of their gait now with how they look after the exercise program, to see if there is any change."
Ahmad had been collaborating with Shivayogi Hiremath, associate professor of health and rehabilitation sciences in the College of Public Health, on studies employing electronic devices to study people's mobility and physical activity. They approached the social work team, which was doing community programming around falls reduction and physical activity, to formulate this study. The interdisciplinary project is funded privately by the Butz Family Fund. Susan and Brian Butz established an Aging and Health Research Fund at Temple's School of Social Work that is supporting this pilot project, including costs of equipment, stipends for research assistants, and incentives for participants. McCallion noted: "Students don't always experience the important and fulfilling opportunities of research with older adults. The Butz funding of student stipends means Temple students have this opportunity."
The physical activity course, delivered in two hourlong sessions per week at the senior center, is called STAY WELL, adapted from the "Get Fit For Life" guidelines issued by the National Institute on Aging.
"We're looking at the ability of this program to help with falls prevention for people, so a lot of what we'll do is lower body strength and balance activities," said Lisa Ferretti, research assistant professor in social work.
Members of the senior center were offered the chance to sign up for the physical activity program with or without participating in the Temple study. Many joined eagerly. Participant Frank Vesel said he had been experiencing vertigo and Meniere's disease (a disorder of the inner ear) and he had fallen.
"My goal is to see if I can control my balance better," he said.
Rosemary Revell, another participant, felt the program would be a great motivator. "I want to get moving again. I used to always be active," she said. She said her grandchildren might think the high-tech wristwatch was cool.
"The hope is that we will see a change in terms of fitness for the folks who take the program. Maybe they were taking small steps, because they were scared, and now they're walking better." Ferretti said. "Hopefully we'll be able to create some sort of algorithm that will help us to predict who's at the highest risk for falls. That might help prevention efforts."
Apart from what the data shows, participants can benefit from improved fitness, Ferretti added.
"In the School of Social Work, we're always interested in people being more physically active," she said. "It can keep people independent in their communities. It's good for cardiovascular endurance, for self-esteem. And there's a real social component to exercise—when you see people who are feeling isolated or lonely, they're more likely to be less physically active, as well as less socially active, all of which leads to potential negative outcomes. So it's all connected."