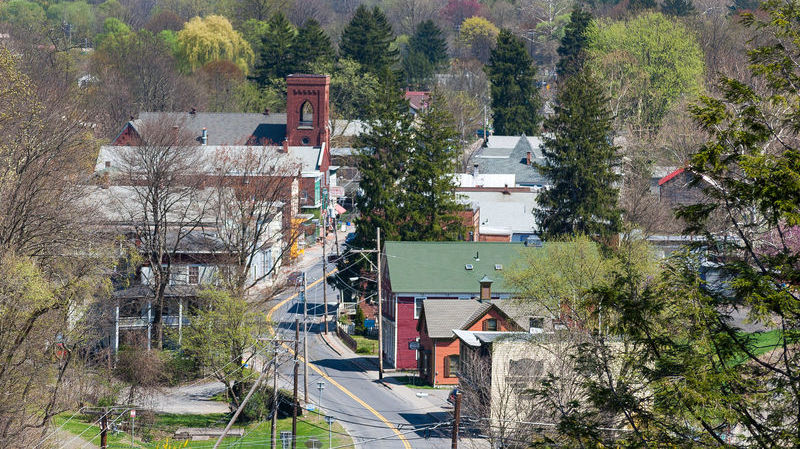 As the opioid epidemic has widened, some of the most heavily impacted areas have been in rural Appalachia, a region of the country stretching from parts of New York to northern Alabama and Georgia. Opioid use in this region has grown disproportionately, driven in part by the higher prevalence of people using prescription opioids non-medically, the transition from prescription opioids to heroin, and the more recent increased availability of Fentanyl. This has presented a potentially overwhelming public health challenge in rural areas, where facilities offering treatment for substance use disorders and mental health may be few and far between.
Abby Rudolph, associate professor in the Department of Epidemiology and Biostatistics, has begun to explore how the methods that have previously been used to understand the epidemiology of HIV and prevent ongoing transmission could be applied to understand the opioid crisis and prevent future fatalities in rural settings. Her new study recently was published in the Journal of Urban Health.
Her analysis, done in conjunction with researchers from the University of Kentucky, focuses on identifying individuals in an affected community who might be best positioned to intervene in life-threatening situations. The paper aimed to identify persons who use drugs who are more likely to witness an overdose in the future. Training these individuals to administer life-saving naloxone and rescue breathing to overdose victims could prevent fatal overdoses. These well-connected peers also can train others to be ready to respond.  
"Most overdose prevention programs target people who are likely to experience an overdose themselves, but you can't give yourself naloxone," Rudolph says. "We're trying to change the framework for overdose prevention. By capitalizing on social relationships and using peer-based trainings to increase the number of people who are trained in overdose prevention, we can ensure that more people feel able to respond in an emergency."
Often it's someone at the scene of an overdose—rather than emergency help called via 911—who is able to deliver treatment most quickly. By targeting "likely bystanders," people who spend time in the proximity of at-risk individuals, "we drastically increase our chances of having somebody in the area who can respond," she says. These bystanders often are friends or family members.
The study is built around a survey that asked 503 people who use drugs in rural Eastern Kentucky about their own risk behaviors and their connections to others. The targeted region is an epicenter for prescription opioid use and overdose. From the self-reported connections, the larger study was able to construct the connections between all individuals in the sample.
Using concepts from infectious disease literature, Rudolph's paper discusses the concept of "herd immunity" —a threshold reached when a critical portion of the population becomes immune to a disease.  If the disease in this case is a fatal overdose, training in overdose prevention can function like a vaccine, helping to prevent future fatal overdoses. Here, social connections can help to mitigate potentially fatal events.
One key in dispersed rural settings is having people train others who can't access in-person training sessions, Rudolph says. "We can give marginalized members of the population prosocial roles—training their peers in overdose prevention," she says. "Over time, you can expect to see a reduction in risk behaviors and fatal overdoses." Often, advice is taken better from a member of the population than from an outsider.
In a related project, Rudolph has developed instructional Web videos and a phone app that show how to administer naloxone and rescue breathing. The videos, which use animation, simple annotations and voice instruction, offer another means of getting life-saving training into the hands of people who may witness drug overdoses. The videos have been made available to the public.
"If we reshape the way that we think about overdose prevention and the way we disseminate training, we could increase the number of people who are able to respond and save lives," Rudolph says.
Read more research from the Department of Epidemiology and Biostatistics.
Categories