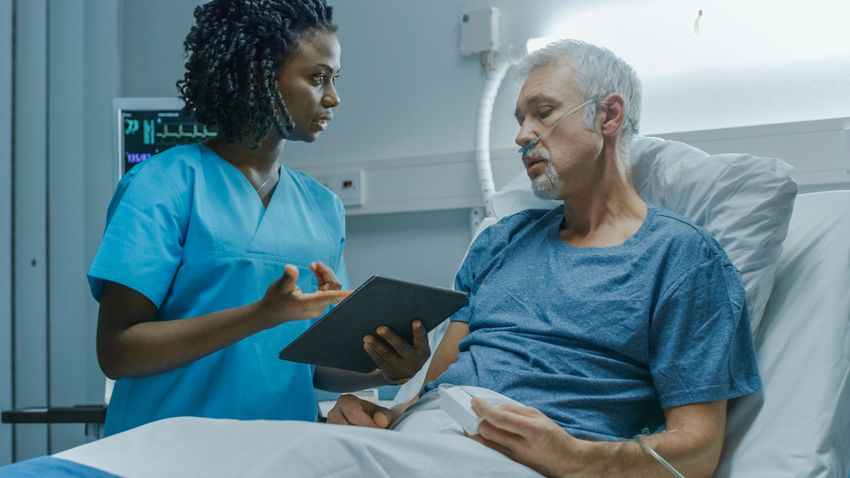 One potential way to improve both the outcomes and the economics of hospital stays is simply to help more patients communicate better, suggests a Temple co-authored paper that has been recognized for excellence by the American Speech-Language-Hearing Association (ASHA). The article, "Improving Patient Safety and Patient-Provider Communication," explores the use of augmentative and alternative communications (AAC) strategies for patients who have difficulty accessing conventional nurse call systems due to their conditions or treatment.  
The paper, co-authored by Rebecca Alper, assistant professor in the Department of Communication Sciences and Disorders, was published in Perspectives of the ASHA Special Interest Groups and was recognized with the annual ASHA Journal's Editors Award, which is given for articles that "meet the highest quality standards in research design, presentation, and impact."
The study evaluated the impact of a device that allows patients to use gestures, such as clicking of the tongue, to select options on a computer tablet screen, like calling for a nurse, asking for pain medication or making other requests. This "noddle system" technology was developed by the Assistive Devices Laboratory at the University of Iowa under Richard R. Hurtig, a co-author of the paper (who also founded a company, Voxello, to bring the technology to patient bedsides). 
In the study, patients who could summon their nurses and communicate effectively, with or without AAC, had significantly more favorable perceptions than those who couldn't.  The study suggests AAC can be used in acute care settings to help patients overcome communications barriers.
"This study was very clinically realistic in its implementation, because it was done in a real healthcare setting," Alper explains. "We spent a lot of time trying to think about what the implications were for policy and practice."
Prior research had shown that 33 percent of conscious patients in intensive care units are unable to use conventional nurse call systems. A patient may have mobility limitations or be unable to speak to a responding nurse while on a ventilator. 
"This is a kind of unique area," Alper says. "Because this line of research is really thinking about the right that people have to participate actively in their care, and how that is not only a human right, but it's also something that can shorten their length of stay, improve their communication outcomes, and make a real difference."
Alper's research generally focuses on the role of clinicians and caregivers in early language and literacy interventions, how parents provide input to children. 
"But in this context, we're thinking about people's access to communication," she says. "How people with the same health condition, who might differ in terms of their ability to communicate with their caregivers, can potentially have different outcomes."
Categories