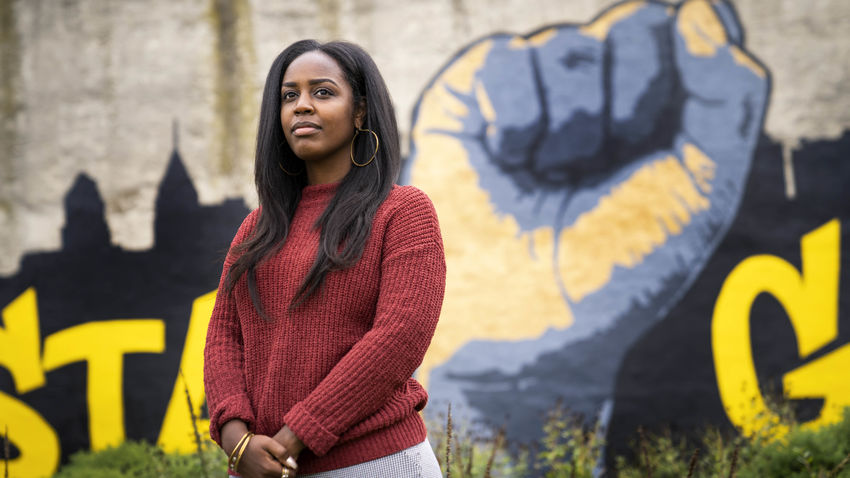 For Ashley Stewart, assistant professor of instruction and MSW online program coordinator in the School of Social Work, the profession of social work is in a moment of unprecedented opportunity. She teaches and writes about issues such as race-based traumatic stress and identity-based oppression, and she tells her students that social work is all about social change. The upheavals over equal justice that the nation has been experiencing this year have brought to the forefront conversations about long-standing, racially oppressive social structures and institutions. Social work can be part of that change and must adapt to the need for new perspectives, says Stewart. She feels that the pandemic has played a role in society's readiness for change—its norm-altering effect has spurred people to rethink societal conventions, the institutions where they work, the value of fellow citizens, and their own abilities to make a difference. We spoke with her about how social work can engage in these conversations and the challenges ahead.
How does the current moment lend itself to change in a way that might not have been possible before?
We've experienced issues around racism before. It's nothing new. Now every day I'm waking up to new opportunities to have conversations that I would have had to pry doors open to have before. I am receiving requests to talk about issues that were once very difficult to bring up. And not just talk about it, but how do we move past the way we have typically responded?  We're really talking about culture shift now and no longer talking about just information. 
That change in mindset and action has flowed from the sustained protests over George Floyd and Breonna Taylor, but you think the pandemic also has contributed to this moment?
It is unique that we are experiencing this pandemic at the same time that there's this upsurge in engagement and activism. People have been protesting, and marching, and engaging in activism for decades. Something has happened that I feel is different. With people not being able to navigate through life the same way as usual, many are seeing the world in a new way. The issues are harder to minimize and dissociate from. I don't want to attribute people's involvement merely to not having anything else to do. However, I believe the numbers we have seen in protests in part are because people have been actually sitting with the realities of racism, maybe for one of the first times in their lives, and felt really compelled to do something.
How do you regard social work as social change?  It can be hard enough for social workers to help people manage day to day.
It's social change to be mindful of and honor the intricacies of people's lived realities, to unapologetically commit to social justice. So that families can be reunified, so that the children can be placed safely, so that individuals can have healthy coping mechanisms to deal with their past traumas. Social workers may highlight people's strengths, support the family, and get them adequate resources, so they can be supported when the practitioner leaves. That's change. 
There is a role for bigger-picture work like advocating for policy shift, organizational structural change, community organizing. Within our code of ethics, a value is social justice. Within our ethical principles is the value of service. And within all of our core competencies as a profession, engagement with social systems to create systemic structural change has always been part of the profession. Whether it's with the individual or with the system, one of our roles is to find the strength or the avenues for change, so that the need for a social worker is no longer present.  
How can social work itself adapt in this moment?
Social workers can apply anti-oppressive and trauma-informed practices to all areas of the profession. In a clinical environment, or in community-based and advocacy initiatives, understanding intersecting layers of oppression within people's lives can transform the ways we show up and provide support. In order to address issues, we must first acknowledge them. We have an opportunity to support healing in profoundly new ways. It starts with realizing that folks aren't needing us to speak for them, instead acknowledging that folks aren't being listened to and asking the critical question of 'why?' and getting to the root of the systemic issues suppressing liberation.
What might be a real-world example of that?
As an example, a social work practitioner could be providing one-on-one counseling or helping someone through a particular issue. That person could say "I feel like people are always following me and looking at me. I feel really self-conscious." They're describing experiences that might align with anxiety or some aspects of hypervigilance. A clinician who hasn't assessed bias—say this person is a person of color—might try to deal with the anxiety, address the "perception" that people are following you. But some folks really are being hyper-surveilled in their communities or when they're out shopping. That might be actual. So we can create the space to talk all we want, but you want to have that critical awareness to say, "This might not just be an irrational thought. This is rooted in facts and experiences." And then you can begin to talk with the person about the particular stresses that climate may create for them.