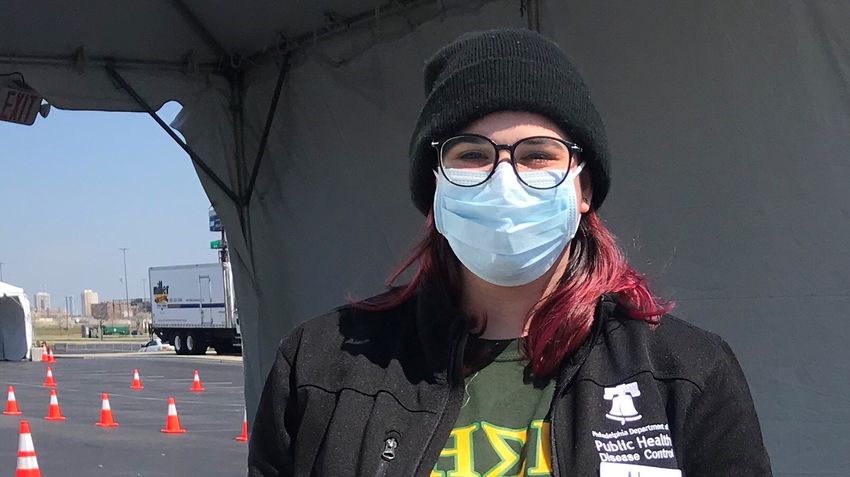 Photo courtesy of Alyson Chambers
On the afternoon that was supposed to be baseball's opening day, the parking lot at Citizens Bank Park buzzed with activity. The Phillies weren't playing – the coronavirus pandemic has led to a cancellation of games in all the major sporting leagues—but the South Philadelphia site has found a new purpose as a drive-through public testing site for COVID-19.  Alyson Chambers, a senior public health major at Temple, helped control the flow of vehicles, register volunteers, and keep the mood upbeat.
Chambers is working in community outreach for the Bioterrorism and Public Health Preparedness program in Philadelphia's Division of Disease Control.
"From one o'clock until five there was no gap in cars," she said. But people stayed calm and orderly. "I didn't see anyone who was very panicked."
This was her first day working at the site, which is set up to provide free COVID-19 testing from 1 to 6 p.m. daily for people who aren't able to get tested through their medical providers. Drivers on-site are prescreened for risk factors to qualify for a test (a person must have symptoms of a fever, a new onset of cough, and be either over 50 or a healthcare worker). Those who meet the criteria move over to clinicians who swab their cheeks, and no one needs to get out of the car.
Chambers directed people once they were checked in and helped register participants from the Medical Reserve Corps, a group of volunteers who serve the city during public health emergencies and large-scale events. Chambers and her co-workers wore masks and gloves, and clinicians had full personal protective equipment. She says there were enough tests that afternoon to handle everybody who needed one.
Her work on COVID for the city unit had begun with creating informational posters and bookmarks about virus precautions, some of them distributed on Temple's campus. She also spoke to at-risk community groups and was able to gain hands-on experience with public safety exercises.
"We did drive-through flu vaccine clinics last fall for police, so we kind of modified that model to do the COVID testing," she says. "And last fall, we did a full-scale exercise for a hypothetical anthrax attack in the city. We prep for stuff like this."
It's been life-changing work for the Temple undergrad.
"I went to college not knowing what I wanted to do. I actually wanted to be an art student," she says. "I never saw myself being in a field like this, but now that I am, I love it. My mom's a nurse, and my dad's a social worker, so public health is kind of like the baby of those two careers."
Categories