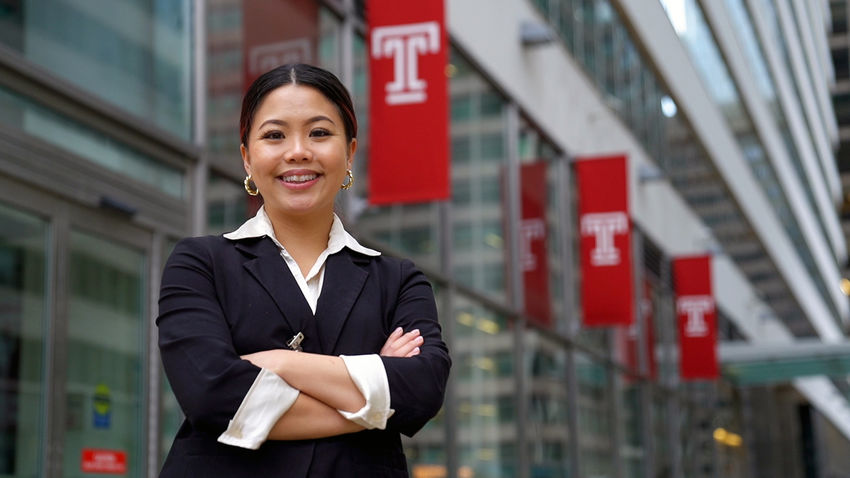 Working as an intern in the City of Philadelphia's Office of Immigrant Affairs, Gao Ly Vang, a master of social work student at the College of Public Health, has special insight into her clients' needs. Vang is an international student, born and raised in Canada, and she's a child of Hmong refugees from Laos. Whether she is working on policy issues, assisting people without immigration status in communities across the city, or helping Philadelphia welcome migrants who have arrived by bus, Vang is able to combine her education and work skills with understanding that comes from lived experience. 
"I have a strong sense of empathy for those who have arrived in Philadelphia seeking new opportunities," Vang says. "I deeply respect all parents who make the difficult decision to migrate. It's not an easy decision or an easy journey."  
Vang received her bachelor's degree in criminal justice at Conestoga College in Ontario, Canada, and she wanted to continue her education by exploring restorative justice, an approach that focuses on rehabilitation of offenders via reconciliation with victims and communities. Vang says she chose Philadelphia for its restorative justice initiatives, such as the city's Mural Arts Program. "Mural Arts works with previously incarcerated folks in the community, who paint the murals with communities, victims, and those who have been a part of the circle of harm," she says. 
Vang has volunteered at Philadelphia's Mural Arts Program and witnessed this philosophy at work. The nation's largest public art program, with more than 4,000 artworks in public spaces, Mural Arts has a guild that offers paid apprenticeships to individuals returning to the community. They can learn job skills such as carpentry and painting, returning to the community in a restorative way rather than a destructive way, Vang says. 
"It's a form of restorative justice for the community, but also as a restoration of themselves, the dignity of having a job, the dignity of having a purpose, being able to have an outlet creatively," explains Mural Arts spokesman Chad Eric Smith. "It has a kind of systemic effect on their loved ones, their family, their friends, their community, which ultimately can result in observable impact outside of themselves. It's our organization's way of combating recidivism through the power of art." 
The murals themselves—her favorite is "The Healing Walls" in North Philadelphia—tackle social justice issues. "The story that these murals tell you, it makes you feel represented and included, especially as a person of color," she says. Those powerful images have provided a backdrop to Vang's studies at Temple and her work in the city's Office of Immigrant Affairs."
At Temple, she is researching another area of social justice, health disparities and related issues within the Puerto Rican population. In the city department, she works on immigrant fraud protection policies.  
"One thing to recognize is that immigrant populations are vulnerable," she says. "They come across many kinds of scams, employment scams, immigration scams. These folks are coming with limited resources, and they have underlying fears of deportation if they make the wrong move. So we have to ensure that those who are coming into Philadelphia are protected by policies and regulation. We're developing an immigrant services fraud program to prevent the exploitation of immigrants." 
She's also improving the constituent services, connecting residents with community organizations that assist with matters including healthcare, housing, legal services and employment. If her clients have concerns, she can contact partnering organizations to see what their capacity is and set connections into motion. 
And those news-making buses that began arriving at 30th Street Station in November, carrying migrant families from South and Central America via Texas, gave Vang an opportunity to assist Philadelphia as a Welcoming City, an official designation it recently earned. "We are committed to providing new immigrants with a safe and welcoming landing by mobilizing our partnering organizations, in Philadelphia or in other states, to support their migration journey and enhance their access to services," she says. 
"When we think about who really helped Philly come up, it's immigrants," Vang says. "You've got the Italian market, the African community in West Philly, Chinatown, these pockets of communities built by immigrants. It's apparent how diverse Philadelphia is." 
Navigating her own immigration journey, she has come to enjoy being a Philadelphian.  
"Some might say Philly people are kind of weird, but they're not! I think they're just honest, very, very honest," Vang says. "That's what I love about Philly."