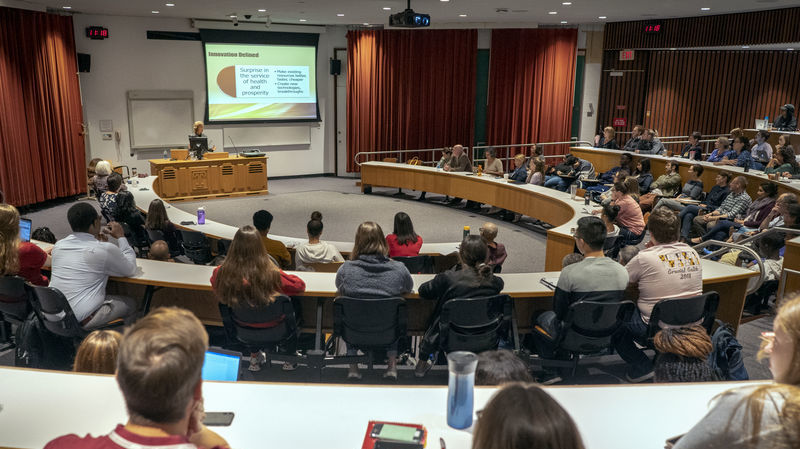 On Friday, Oct. 4, Roberta B. Ness, James W. Rockwell professor of public health at the University of Texas School of Public Health, delivered the first Dean's Seminar of the academic year. Formed in recognition of the College's accreditation by the Council on Education for Public Health, the series brings internationally renowned scholars and practitioners to campus for discussions on pressing issues facing an ever-expanding field of public health.
From 2008 to 2014, Dr. Ness served as dean of the University of Texas School of Public Health. She has published more than 400 articles and received more than three dozen federal grants in the area of women's health, particularly in the epidemiology of ovarian cancer, adverse pregnancy, and reproductive health. Her work has been recognized by organizations such as the American Public Health Association, the American College of Epidemiology, and the Society for General Internal Medicine.
In addition, Ness is vice president of innovation at the University of Texas Health Science Center at Houston, and she has written four books on the importance of creativity and innovation: Innovation Generation: How to Produce Creative and Useful Scientific Ideas, Creativity in the Sciences: A Workbook Companion to Innovation Generation, Genius Unmasked, and The Creativity Crisis: Reinventing Science to Unleash Possibility. 
"As researchers and educators, we should always strive to think of new and creative approaches to our work," said Laura A. Siminoff, dean of the College of Public Health. "And as practitioners, we know that the most difficult health challenges require novel solutions."
In her talk, Ness shared lessons from her career in teaching and researching innovation and creative thinking. She is a frequent speaker on the topic to audiences across higher education, in corporations and industry, and in national academies of science and technology. She drew on examples of scientific breakthroughs driven by innovative thinking, such as the Nobel-winning identification of H. pylori. She also shared tools to foster the ability to think of creative solutions, including intentional observation, analogous thinking, and brainstorming.
"How do we expect people to be maximally innovative if we never teach them an approach to doing that?" Ness said. "Can it be taught? Most people think it can't—that is absolutely, completely, utterly wrong. Creativity and innovation absolutely can be taught."
The next Dean's Seminar on Friday, Oct. 25, will feature Nicholas Freudenberg, Distinguished Professor of Public Health at the CUNY School of Public Health and director of the CUNY Urban Food Policy Institute, for a talk on the public health impact of 21st century capitalism. The event is free and open to the public. Register now. 
Categories