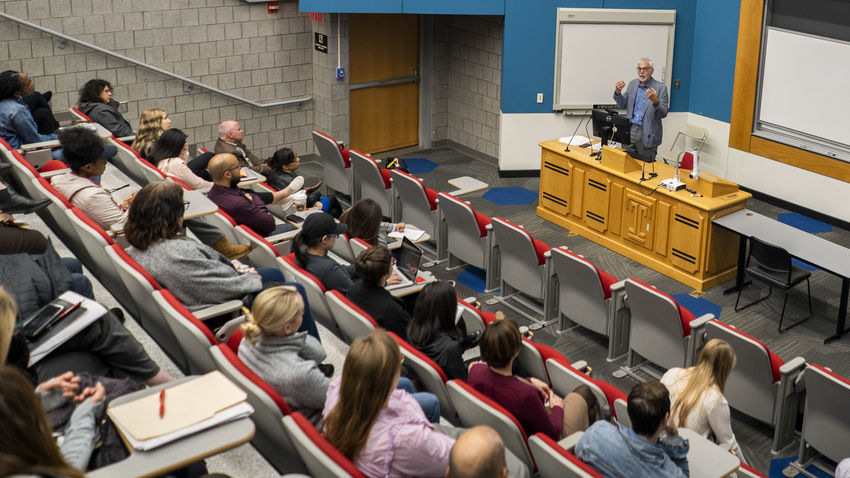 On Friday, Oct. 25, Nicholas Freudenberg, Distinguished Professor of Public Health at the CUNY School of Public Health and director of the CUNY Urban Food Policy Institute and Healthy CUNY, delivered the second Dean's Seminar of the academic year. Established in recognition of the College's accreditation by the Council on Education for Public Health, the series brings internationally renowned scholars and practitioners to campus for discussions on pressing issues facing an ever-expanding field of public health.
For more than 30 years, Dr. Freudenberg has worked with community organizations, civic groups and government agencies to develop, implement and evaluate interventions to improve the health of disadvantaged urban communities. His talk, "The Public Health Impact of 21st Century Capitalism: Time for an Assessment?" examined the impact of recent changes in capitalism on people's capacity to find work, food, healthcare, education and other necessities for well-being. 
"Today's talk represents a kind of coming out for me," Freudenberg said. He explained that he has been studying capitalism for more than 30 years, but this is the first time he has talked about it explicitly. "I've come to believe that putting the concept, the word and analysis of capitalism front and center in public health practice, research and activism is essential," he said.
Freudenberg explained that capitalism is a fundamental determinant of well-being and health equity, and noted that: "In this century, capitalism is changing in ways that is increasing harm to health, the environment and democracy."
Health professionals, social service professionals, researchers, and teachers have both an opportunity and an obligation to talk about these issues, he explained. "That's part of your job. For us to say that we don't want to talk about politics—that's something separate from what we do, is like a doctor saying she doesn't want to talk about bodies. Health is about politics and who has power and how they use it, and if our mission in our professional careers is to help people be healthier, then we have to be more comfortable talking about politics."
Freudenberg implored: "We need to prepare the students we are educating to be able to have these conversations and to do it smartly and effectively. And in ways that reinforce our core democratic values."
He explained that health and well-being rest on six main pillars: food, healthcare, education, work, transportation and social connections. "The case I'm trying to make is that in each of these, the features of 21st century capitalism and giant multinational corporations influence how people in this country and around the world access these things. And we need to fully understand how people are influenced by corporations and by capitalism. Some of the forces that are shaping capitalism—globalization, capitalization, deregulation, privatization, the development of new technologies—they influence how corporations are structuring the opportunities that people like you and your peers and your family have for being healthy or not healthy."
The Dean's Seminar Series will continue in the spring semester. Check back for a list of dates and speakers.
Categories