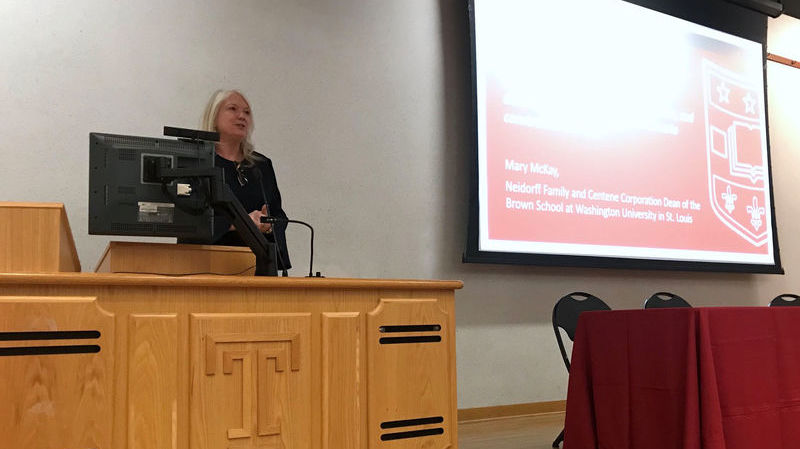 On March 29, Mary McKay, Neidorff Family and Centene Corporation Dean of the Brown School at Washington University in St. Louis, delivered the final Dean's Seminar of the 2018-2019 academic year. Formed in recognition of the College's accreditation by the Council on Education for Public Health, the series brings internationally renowned scholars and practitioners to campus for discussions on pressing issues facing an ever-expanding field of public health.
In her career, McKay directed the McSilver Institute of Poverty Policy and Research at New York University, headed the Division of Mental Health Services Research at Mount Sinai School of Medicine, and served on the faculty of Columbia University and University of Illinois at Chicago. She has received honors from organizations such as the Council for Social Work Education, the American Academy of Social Work and Social Welfare, the National Alliance for the Mentally Ill, and the American Association for Marriage and Family Therapy, among others.
A prolific scholar in the areas of mental and behavioral health, HIV/AIDS prevention and urban poverty, McKay has co-authored two books and more than 150 peer-reviewed articles. Her current work includes a National Institute of Mental Health-funded project exploring the role of family groups for youth with conduct difficulties, as well as a project that aims to reduce gaps in mental health services and research in Sub-Saharan Africa.
"Dr. McKay's work illustrates the intersection between public health and social work, and her commitment to addressing the health challenges of youth poverty is a powerful reminder of our duties not just as researchers, but as advocates," said Laura A. Siminoff, dean of the College of Public Health and Laura H. Carnell Professor of Public Health.
In her talk, McKay relayed stories from her work as principal investigator at the SMART (Strengthening Mental health And Research Training) Africa Center, a trans-disciplinary center funded by the National Institute of Mental Health that aims to reduce gaps in child mental health services in Ghana, Kenya, Uganda and South Africa. She discussed the difficulties of working in an environment that is both constrained by resources and burdened by stigma toward receiving mental health services. Through SMART Africa, McKay and her team work closely with policymakers and community health workers, who are more prevalent and held in higher esteem in these countries.  
"None of our work is possible without investing in the humans that are going to lead the work, take over the work, lead the science agenda, and lead the delivery agenda, as well as the students sitting in the universities now," said McKay.
As part of the discussion, she highlighted not only the differences between child mental health services in the United States and the four African nations, but the core similarities:
"It is a universal that families want their kids to grow up and be educated and healthy and well," she said.
Learn more about upcoming events in the College of Public Health.
Categories