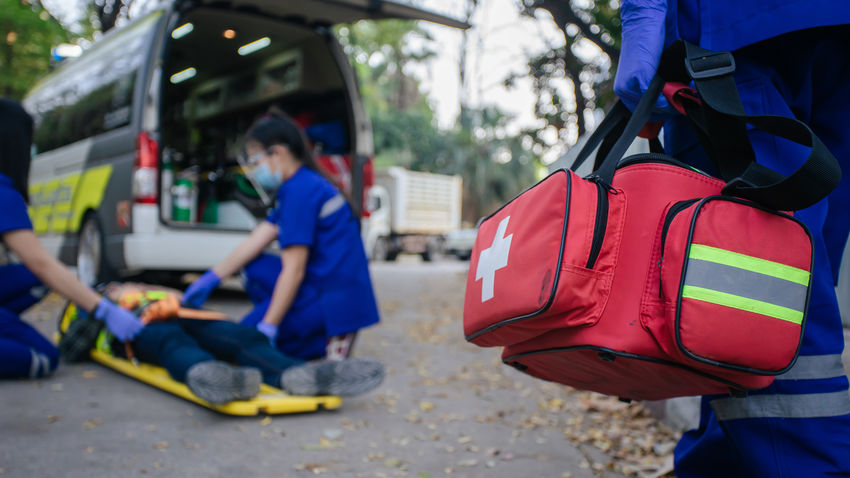 The College of Public Health has established an Emergency Medical Technician (EMT) course that will train students to become proficient in basic life support care and prepare them to sit for the National Registry of Emergency Medical Technicians (NREMT) exams for certification. This six-credit hour course is completed in one semester and is optimal for pre-health students and students majoring in many clinical disciplines, as it provides ample opportunity to gain patient contact hours and unparalleled healthcare experience.
The course is offered through the college's new Emergency Medical Services (EMS) Institute. It will be highly hands-on, including dynamic classroom experiences and large-scale drills that will offer engagement through simulated patient scenarios.
"There is significant need for EMS—an essential community service," says Catherine Gibbs, assistant professor in the Department of Health and Rehabilitation Sciences and director of the EMT program. "Especially since the pandemic, we have seen an increase in the demand for emergency services. And like nursing, the pandemic has led to a shortage of well-trained professionals in the field, and we want to help close the gap."
Gibbs says the Emergency Medical Services Institute will also partner with outside organizations to offer clinical hours and real-world experiences. To date, the college has several partnerships with EMS organizations and one hospital in place. 
This program is open to all Temple students who meet eligibility requirements. These include having taken Anatomy and Physiology I (KINS 1223) as a prerequisite and holding a valid Pennsylvania driver's license. 
Upon successful completion of this course, students will be eligible to sit for the NREMT exam. This qualification is an entry into emergency medicine that will prepare students to volunteer in their communities; prepare them for careers as an emergency medical technician, paramedic, emergency room technician; or further their career in any medical field. 
"The addition of our new Emergency Medical Services Institute is good for the Temple community as well as the community at large," says Scott Burns, vice chair of the Department of Health and Rehabilitation Sciences. "We are excited to help fill a need that is present in the city and across the state of Pennsylvania, and we hope to add more emergency medical services offerings in the future."
Categories