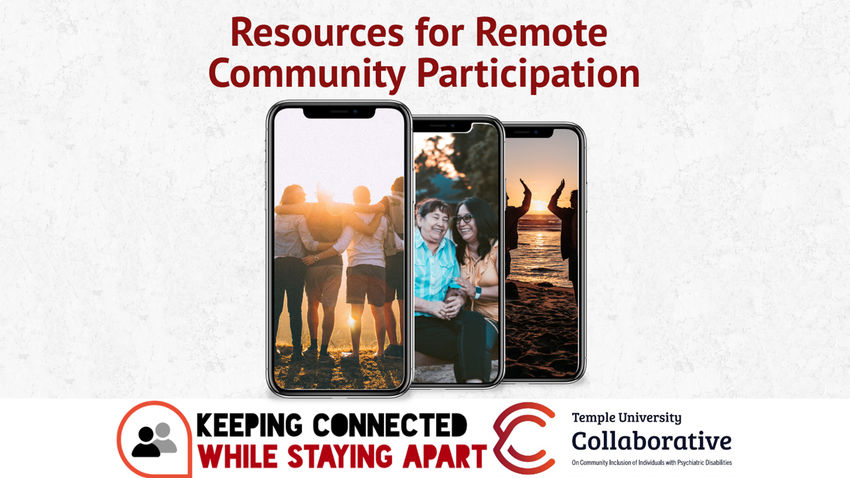 Temple University Collaborative on Community Inclusion
The Temple University Collaborative on Community Inclusion is built around the principle that participating in community activities is vital for people with serious mental illnesses such as major depression, bipolar disorder and schizophrenia. The near-complete shutdown of group events and public spaces during the COVID-19 pandemic has struck at the heart of its mission.
So the Collaborative needed to get creative.
Pulling together its connections across the country, the Collaborative has created a national conversation around community participation.  In late March, the Collaborative hosted a webinar that drew more than 200 professionals from around the country. They shared ideas via text chat pointing to virtual music and arts groups, online classes, fitness programs, games, scavenger hunts and other activities. Care providers can explore these activities for clients whose successful independent living is often deeply tied to opportunities for outside engagement. 
"Usually we're thinking about the physical community instead of the virtual community," says Gretchen Snethen, associate professor in the recreational therapy program and associate director of the Collaborative. She points out that isolation is already a problem for many people with mental illness, and stay-home orders stand to make things tougher.  "We wanted to put together resources focused on the different areas of participation—education, religion, leisure, recreation. How can you do those now, either virtually or even through low-tech options?"
The resources and suggestions for engagement are being gathered into a growing guide available online. 
The Collaborative also launched two initiatives designed to keep people engaged while homebound. They are planning a series of "Virtual Story Slams," where people with psychiatric disabilities connect via Zoom videoconference software and share three- to five-minute personal stories that involve community engagement.
"We're really shifting away the 'illness story' to focus on community participation," Snethen explains. "What's your story of being a student, or your first job?  What's your story of your church community, or an important family role that you might have?" The first Slam session will focus especially on distance connections: "how you have maintained connections when people live far apart, a family member or maybe a childhood friend," says Snethen.
The Collaborative offers workshops to Slam participants to help them prepare their stories and on calming the nerves to make a presentation.
The Collaborative also plans to launch ConnectionRx, a service offering people individualized guidance for staying engaged. Plans include face-to-face individual support from a Temple interventionist via phone or video chat.
"We're planning on starting with weekly meetings, targeting a number of areas such as leisure motivation and satisfaction, dealing with boredom, and connecting with natural supports," says Kyra Baker, a Temple graduate student in recreational therapy and community inclusion specialist at the Collaborative.
ConnectionRX will offer people an option of daily text messages with tailored activity suggestions. And there are plans for a private social media group where participants can come together to support one another.
"By participating in meaningful social roles, you improve your physical health outcomes, you improve your mental health, you reduce loneliness," Snethen says. "We just have to be a little more creative about it now."