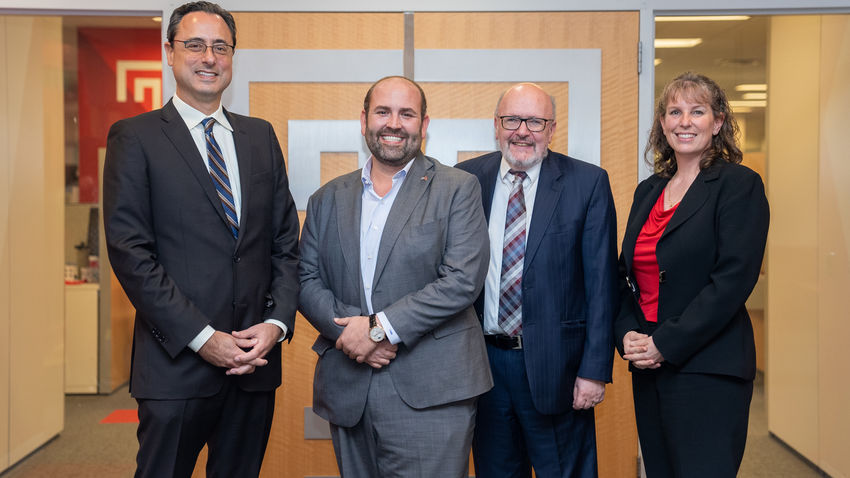 Temple's School of Social Work will open an autism lab thanks to Christopher M. Barnett, CLA '10, CEO of ABA Centers of America and a member of the College of Public Health Board of Visitors. 
Temple alumnus Chris Barnett first grew a passion for helping the autistic community and their families navigate diagnoses and care after personally witnessing how difficult this process can be. "Both of my nieces are on the autism spectrum, and they languished for years waiting to even get a diagnosis. And once they got a diagnosis, they were on another waiting list for ABA therapy. I thought there had to be a better way, a way to disrupt this space and fundamentally change the way ABA services are made available to communities," says Barnett. He founded ABA Centers of America in 2020 to give hope to others facing the same hardships and ensure equal access to diagnosis and applied behavioral analysis (ABA) therapy from certified professionals focusing on communication, academics, social skills and social functioning.

Barnett's experience rings true for a population of 5,437,988 Americans and their families who often cannot find support in a system critically lacking qualified professionals. With the help of the College of Public Health, where Barnett serves on the Board of Visitors, he plans to drive that necessary change. "Our alumni are best positioned to tell us what we need to do to best prepare our students for their careers. They know what value our Temple education provides to students, and they are leaders in their fields who know what the workforce needs for tomorrow. Our alumni, our Board of Visitors and our alumni associations are giving back to our students what they once received themselves, creating a supportive culture within the college," says College of Public Health Interim Dean Jennifer Ibrahim.
Today, the ABA Centers of America is the fastest-growing ABA provider with 11 metro areas, four locations in New Hampshire and Massachusetts, and plans to open more clinics in southeastern Pennsylvania and New Jersey in 2023. This momentous partnership, marked by the official gift signing on Wednesday, November 16, expands Barnett's vision and offers a wealth of services to the Philadelphia population.
Once completed, the autism lab will be used to conduct autism research, offer diagnostic services and train students to build the necessary workforces to not only meet the current needs of the autistic community but to reach out and make a difference for the general public. "This generous gift provides an opportunity to build a culturally competent and thoughtful research lab to provide services related to autism and to build needed and productive relationships with a key and growing provider in the region. In addition to direct services, the faculty will conduct associated research to better understand the need for support services for individuals with autism as well as their families. We will also lead in the development of new interventions and new service options," says Provost Gregory Mandel.
Barnett chose to partner with his alma mater in this mission as a testament to his "Temple Made pride" and commitment to sharing Temple's resolve to create meaningful change for North Broad and beyond.
"Temple changed my life. The things I learned at Temple have allowed me to create successful healthcare companies, such as ABA Centers of America, that help people in need and add great value to the community. It's very important to me that I give back to Temple so that other young people can get the education and opportunities that I had; the education and opportunities that a Temple education provides," says Barnett.
 "Temple's commitment to providing access and leading cutting-edge research knows no bounds and our dedicated community of donors makes that possible. In that historic moment when we open the doors to the ABA Centers of America on Temple's campus, we break down barriers faced by the autistic community and build up the vanguard of professionals transforming the experience for the next generation," adds Mary Burke, Temple's vice president for institutional advancement.

For Temple, this gift represents more than the lab itself; it represents making a difference for an underserved population. "Being able to provide autism assessments for members of our local and regional community is a key way to provide needed services and promote inclusivity. This is another important way Temple responds, leads and collaborates in meeting needs in the City of Philadelphia and the region. The new initiative also allows us to train our students in autism assessment; meeting workforce needs and providing state-of-the-art training is a critical role for Temple University," says Mandel.
"Real change becomes possible with partnerships between providers like ABA Centers of America, universities, and the autism community," says School of Social Work Director Philip McCallion." And that's what we're building." 
This story was originally published on the website of Temple University Institutional Advancement.