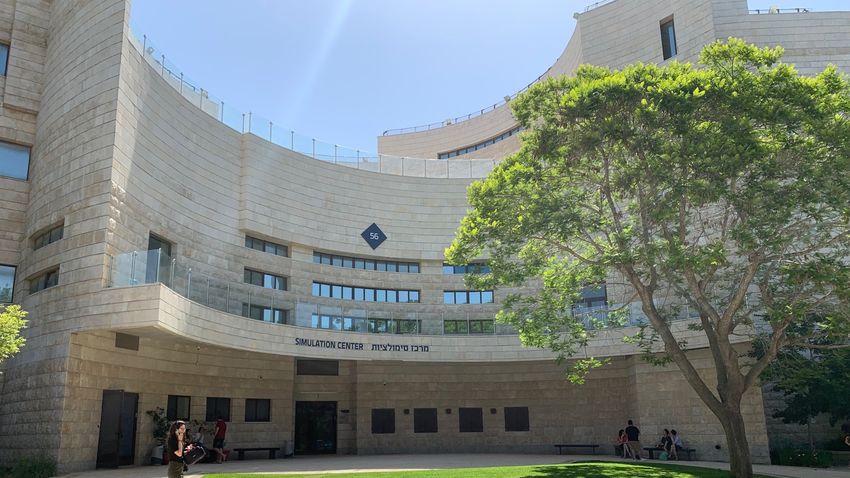 Photo courtesy of Gabriella McLoughlin.
Gabriella McLoughlin, assistant professor in the Department of Kinesiology, brought her expertise to Israel this summer as part of the Jewish National Fund-USA's Faculty Fellowship Program. The two-week program allowed selected U.S. professors to share expertise with colleagues in Israel and foster collaborative opportunities through meetings at institutions across the country.
U.S. faculty members visited Tel Aviv, Haifa, Jerusalem, the Golan Heights, the West Bank, and other areas, meeting researchers and practitioners at institutions such as Ben Gurion University, Tel Aviv University and Galilee Medical Center. They were exposed to Israeli society and culture, met with a Palestinian journalist, heard about women's rights in Israel, toured an underground hospital near the Syria border, saw the Western Wall, and had the opportunity to swim in the Dead Sea. Former Israeli Prime Minister Ehud Olmert spoke to the group.
McLoughlin specializes in childhood obesity prevention and school wellness programming such as student meal programs. Her expertise is in implementation science, whose goal is understanding the best ways to put research into practice. McLoughlin's work helps administrators evaluate how their programs are working "so they can see what's driving success—or not," she says. She was able to confer with counterparts in Israel who were looking to assess their school-based interventions.
"When I met with a professor at Haifa University, I was able to share some of the interventions that I've been working on, how we scale those up to reach more schools and students," she says. "Many of the people doing work in public health in Israel, especially around children's health, are working with the Israeli Ministry of Health. They have an impressive centralized health system, so they have a lot of data they can pull from, which is really fantastic, because we don't have that. Because of this health and education system, they're able to reach more people with potentially less struggle." 
Categories