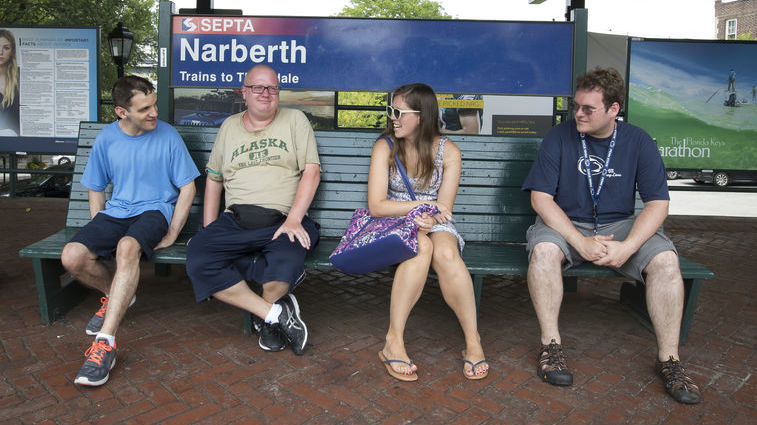 It can be a giant step toward greater independence when young people with intellectual and developmental disabilities find employment. But research has shown that up to 85 percent of people with these challenges face unemployment.
Matching people with the right employment—jobs where they can thrive—is an important part of the answer. Helping them commute successfully to work by themselves is another. Beth Pfeiffer, associate professor of occupational therapy and a researcher in Temple's Collaborative on Community Inclusion, has been exploring both of these ways to improve the successful employment for individuals with autism spectrum disorder (ASD) and other developmental disabilities. 
Pfeiffer recently began a project funded by the National Institute on Disability, Independent Living, and Rehabilitation Research (NIDILRR) to test the effectiveness of a peer-support intervention in which individuals with ASD teach others to travel more independently.
"I was doing employment work and realized one of the biggest barriers to employment was transportation," she says. 
Individuals with intellectual and developmental disabilities often rely on others for rides or use paratransit service, which doesn't run as regularly as public buses, but many can use public transportation once they get the hang of it. To explore this, Pfeiffer and her team partnered with the Philadelphia Independence Network (PIN), an organization in suburban Narberth, Pa., that provides education and social opportunities for young adults with disabilities who are able to live independently with some support. 
Through the program, researchers trained two young adults with ASD to mentor young adult members of PIN. The mentors provide one-on-one travel training and classroom-style lessons about how to navigate public transportation—then take their peers out for practice and experience in real travel situations. As peers, the mentors can talk about their own real-life experiences while offering the lessons.
"That's not something that I can bring to the table," Pfeiffer says. "We found that when they were able to share those experiences, our interventions were much better."
The program teaches participants both transportation basics and the nuances of getting around independently. For example, crossing a street requires understanding of traffic lights and signs but also the occasional need to make eye contact with a driver before crossing near a car. Ultimately, participants will select destinations they want to reach in the city, plan their transportation routes in advance, and practice making the trips. GPS mapping on participants' phones let researchers see where they have traveled.
The researchers are collaborating with SEPTA, Philadelphia's public transportation agency, to implement the project. SEPTA provides transit passes for program participants and has offered use of its own travel training facility.
While getting to work is important, finding the right job is essential, too. In a separate project, Pfeiffer is helping test the effectiveness of a job-matching test developed by Andrew Persch, assistant professor of occupational therapy at Colorado State University. Their study is funded by the National Institute of Child Health and Human Development (NICHD).
Persch's Vocational Fit Assessment (VFA) is a computer-administered test that helps match an individual's abilities, preferences, and support needs with common jobs, based on the skill sets the jobs require. Test takers receive reports that indicate, for multiple types of jobs (such as retail salesperson, administrative assistant, warehouse worker), how their abilities align with the requirements. They can see where they may not be an ideal fit, or where they could use additional training or assistance. The results of the VFA can guide individuals and their caregivers in job searches.
"It's not just an interest checklist," Pfeiffer says. "It really pairs the job requirements with the skills they can bring."