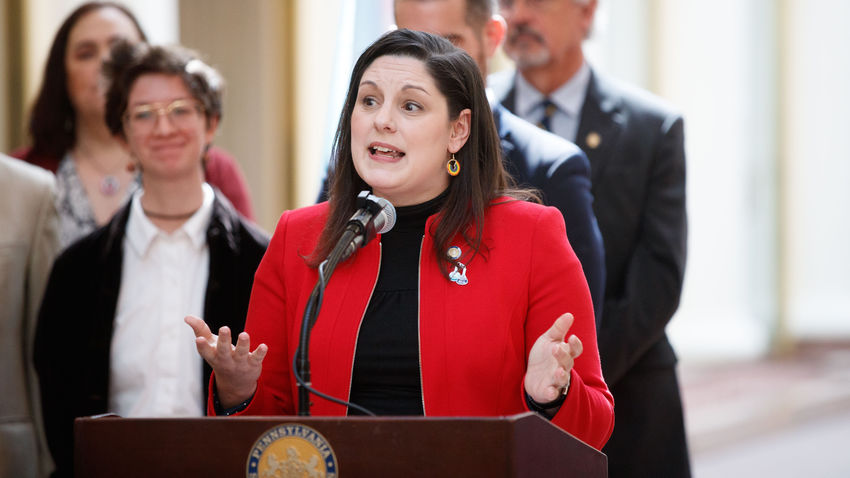 Photo courtesy of Senator Amanda Cappelletti
Amanda Cappelletti is the only member of the Pennsylvania legislature with a degree in public health. She earned her master's degree in health policy and management at the College of Public Health in 2017 while concurrently getting a law degree from Temple's Beasley School of Law in the law and public policy program. In 2020, she was elected to her first term in Pennsylvania's state senate as a Democrat in the 17th district, which includes much of Montgomery County and parts of Delaware County outside of Philadelphia. Cappelletti serves on committees including Health and Human Services and is a co-chair of the Women's Health Caucus of the Pennsylvania Legislature. In the wake of mass shootings across the country and with looming threats to Roe V. Wade, we spoke about how her public health education has informed her work in the General Assembly.
This interview has been edited for length.
Q: What was your initial connection between public health and state politics?
I went to law school because I knew I wanted to be in policy. And I always knew that I wanted to do a joint degree program. My undergrad degree is in international business, so I thought I'd end up in international something-or-other. I watched videos produced by College of Public Health students when I was deciding where to go, and could see the applications for policy. I saw that some of the most impactful things that happen in our everyday lives come out of our state capitals.
Q: After graduating, how did you pursue that?
I joined the William Penn Fellowship program that was created by the governor and first lady to help bring young people into the fold in state government. I got to work through the governor's office at the Office of Child Development and Early Learning and at the Department of Human Services. So I went knee-deep into policy right away. I was able to take a lot of what I had just graduated with and apply it. I had the opportunity to help edit regulations and shape policy around early care and education. 
Q: How did that inspire your leap into running for office?
The leap initially began after the 2016 elections. I was in my final year of law school. My reaction was: I can't be on the sidelines anymore. I reached out to a fellow Temple law student who put me in touch with my state representative, and we met, and that turned into, "do you think you might want to run for office?" It was a six-year term at the Board of Supervisors. I said no, but they were persistent and got me to "Yes." I ran for office while studying for the bar in 2017 and won a term on the Board of Supervisors in East Norriton. 
Getting involved, knowing local people in the party, I guess that set up a reputation. I was leaving work one day, as the 2019 elections were rolling along, and I got a call saying my name was brought up to possibly primary for state senator. I checked in with my husband, whose response was "When do I get to call you Senator?"  I reached out to Nancy Knauer in the Law and Public Policy Program at Temple, and she reminded me a woman is asked seven to nine times more than a man before they say yes to running for office. And I was like, "I don't want to be a statistic. We're gonna say yes on the first shot this time." 
Q: You have spoken out against SB956, a bill moving through the legislature that would amend the state constitution to explicitly say it grants no right to abortion or abortion funding. What is your concern?
Stating that there's no right to abortion care here in Pennsylvania is problematic on so many levels, because abortion care is healthcare. They use language which essentially creates personhood at conception. It's a vehicle, when Roe V. Wade falls, toward completely outlawing abortion and criminalizing individuals who seek abortion care, as well as doctors that provide them.
Q: Supporters of the bill say it's simply stating the fact that the constitution contains no abortion rights…
They're saying this would help place commonsense regulations on abortion. The fact of the matter is, it won't. It becomes scary when we're talking about people who have miscarriages. There are states where people have been charged with murder because they've had a miscarriage. There are concerns over that personhood language for fertility-treatment advocates. I have colleagues who would be willing to consider an embryo a person and the destruction of an embryo murder.
Q: This would need to pass in the legislature and go to a public vote?
If they do it fast enough, they can get it on the 2023 primary election ballot. That's a combination of it being a primary, as well as an off-year election, so the least amount of people vote.
Q: What kind of work are you doing as co-chair of the Women's Health Caucus?
We talk a lot about policies that impact families. Raising the minimum wage. LGBTQIA+ issues. Maternal health and mortality is a big issue here in Pennsylvania. We have awful maternal morbidity and mortality rates, and that's another reason the constitutional amendment is scary, because we know that when there are those types of restrictions on access to abortion, maternal morbidity and mortality rates rise. It's especially bad for Black and brown women.
I remember a global maternal health class at Temple, an incredibly powerful course, and we read a book called Half the Sky. It talks about policy around women in different nations, that if you support women, and you have policies that provide them growth and health and economic security, those places have economic booms. 
Q: Gun violence, and awareness of it as a public health crisis, is rising. You've been pushing to get a vote on a proposed red-flag law for Pennsylvania that would let family members or law enforcement petition a court to temporarily suspend an individual's access to firearms, if there's evidence of a threat to themselves or others.
We're trying to get it out to the floor for a full vote, to demonstrate that there is bipartisan support. People want to do something about this. There was a video I watched that was created by the College of Public Health at Temple, when I was trying to decide where to go, connecting gun violence policies and laws to public health. At the time I was like, "Oh, my gosh, I never would have thought about these things as public health."  
Q: When you work or vote on legislation, how much goes back to your public health education at Temple?
I don't think I realized how useful my public health degree would become, other than the fact that I ran during a pandemic so it became a talking point in the campaign. It influences the way I look at legislation. I'm thinking about healthcare access. To bring it back to the abortion issue, we will lose OBGYNs and obstetricians from practicing in Pennsylvania. What does that mean for pregnant people here? If it's a policy for criminal justice, we have some really terrible statistics when it comes to the public health of people who are incarcerated. So is this law going to impact that positively?  When I'm thinking about saying yes to a policy, how does that policy impact public health, the social determinants of health? How are we improving the lives of people?
Q: Another issue falling on state legislatures is keeping elections fair for everyone.  With midterms approaching, how concerned do we need to be? 
We have fair and safe and free elections here in Pennsylvania and throughout our nation. That is not of concern to me at all. The piece that I'm concerned about is getting people activated and understanding that their vote matters. Recently Senator Pat Browne from the Lehigh Valley, a Republican who works across the aisle to get things done, lost his primary bid for reelection by 19 votes. People need to understand that your vote matters. It is your voice in policy and what happens in the state. Get to know who your state officials are. Not just your governor, your U.S. senator or congressperson. Voting up and down your ballot is incredibly important.