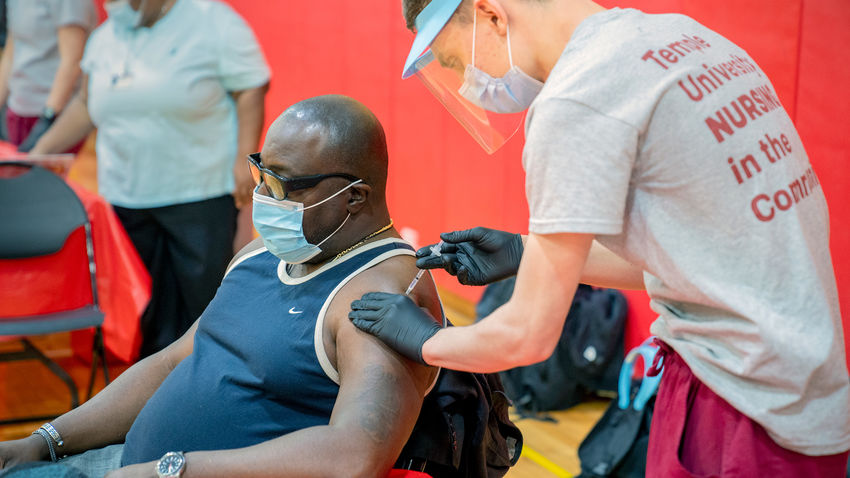 The College of Public Health will take a lead role in setting up COVID-19 vaccination sites in some of Philadelphia's most vulnerable communities this spring and summer. With a grant from the City of Philadelphia, the College of Public Health is working with more than a dozen community organizations to give thousands of people in medically underserved neighborhoods easy, local access to vaccinations. In coming weeks, the college will provide trained staff to deliver vaccines and manage the sites, while offering resources to inform community residents about the vaccines, dispel myths and overcome hesitancy.
People age 16 and over now are eligible to be vaccinated, and with public restrictions being eased and COVID variants spreading, it is critical to get as many people as possible vaccinated quickly, said Laura A. Siminoff, dean of the College of Public Health.
"Every minute counts," Siminoff said. "We know that some of the most under-vaccinated areas of the city are the most economically disadvantaged, where people are more vulnerable. We're trying to bring vaccination opportunities to those people where they live and work." 
Temple's community partners across the city for the neighborhood vaccine clinics include the Strawberry Mansion Community Development Corp., the Indochinese American Council, the Ahmadiyya Muslim Community, Columbia North YMCA, Prevention Point, Bethel Presbyterian Church, the Church of the Advocate, the Episcopal Diocese of Philadelphia, and the Welcoming Center for New Pennsylvanians. These organizations are trusted and influential voices in the communities they serve.
"They're able to help us identify viable solutions for overcoming hesitancy and getting people to register for the vaccine," said associate professor Heather Gardiner, director of the College of Public Health's Office of Community-Engaged Research and Practice. 
The college is working with the local organizations to review and prepare potential clinic sites and to survey community members about their concerns and questions. This information gathering will enable Temple and the organizations to adapt each venue, registration process and pre-event messaging to meet its community's needs. The grant allows each organization to hire a paid, part-time ambassador within its community to provide information and support to other community members. At the inoculation sites, stickers and photo selfie opportunities will help turn every recipient into an unofficial ambassador promoting vaccination. Information on specific vaccination sites and dates is to be announced.
The college has refined its efficient RapidVax vaccine-delivery workflow during the vaccination clinics it has been running since early February at Philadelphia Housing Authority locations. Temple's interprofessional team of licensed clinical faculty members and trained nursing, pharmacy and athletic training students have provided more than 1,500 vaccinations to PHA residents and frontline staff and wasted no medicine. The protocol has allowed Temple's team to safely deliver up to 50 vaccinations per hour.
"Together, we are presenting a unified front in the community," said Susan VonNessen-Scanlin, associate dean of clinical affairs and interprofessional education, who works at the community clinics and administers some vaccines herself. "I'm starting to see a shift in terms of hesitancy. Now that we're going back to these sites a second time to give the second doses, more people are coming forward and saying, 'I wasn't ready when you came in the first time, but now I'm ready to be vaccinated.'"
Categories