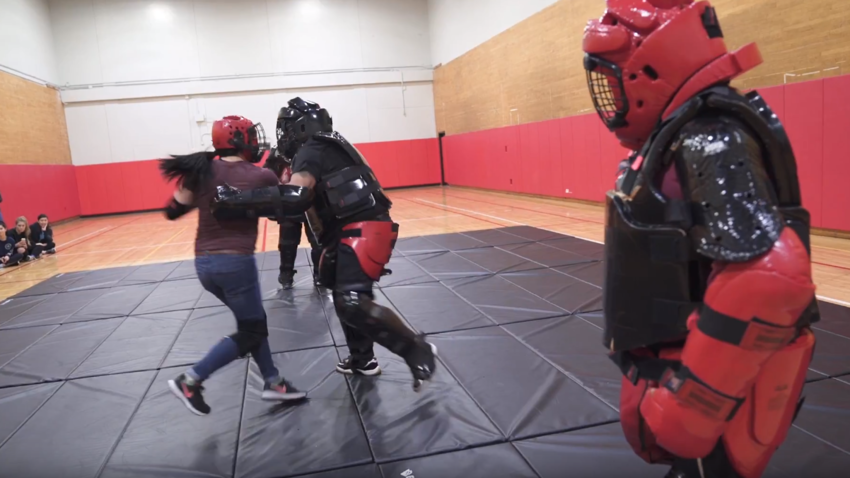 Sixteen students enrolled in Personal Defense for Women, a two-credit class in the College of Public Health's Kinesiology Department, form a large circle around instructor Jeff Chapman in a gymnasium at the back of McGonigle Hall. The young women are wearing their regular classroom clothes. Having trained for weeks, they're ready to fight.   
"We're going to do some striking drills, and then I'm gonna use this dummy to attack them," Chapman says. He points to the dummy, a thick red pad that's in the shape of a human torso.
The women shadow-box moves that they have learned: straight right-hand punches, overhand hammer strikes, kicks and knee strikes, blocking moves and parries. Then Chapman goes around the circle, picking one student at a time to push at with the body-sized pad. 
They improvise physical responses. They punch and elbow and kick the dummy, knee it in the lower pad area. One student executes a spinning kick. "You're watching too much Chuck Norris," he tells her, warning class members not to turn their backs on an assailant. "It's OK to retreat," he says. "I want to see some footwork." 
There's exuberance in the physical effort, but the mission is serious. With each strike they deliver, as they've learned, the students yell "stop!"  Some are louder than others. "When you use your voice, use it like you mean it. 'Stop!'" Chapman shouts.
In another exercise, Chapman play-acts as a threatening guy. "I like your tattoos. Where'd you get those?," he says, mock-following one of the students a bit too closely. Later, they work on escaping wrist grabs and choke holds and how to spin out of an unwanted arm around the shoulder when verbal requests to let go aren't working.
Next week, they'll train in floor defense if they are pulled to the ground.
Chapman started his career on the Temple campus as a security guard in 1986, then joined the Temple police. He was promoted from captain to inspector last year. Along the way, he earned a bachelor's degree in criminal justice and a master's in sports administration. 
The campus is safe, he says, but everyone needs to be diligent. He realizes that teaching students how to physically defend themselves makes him and the other instructors of this class unique at the university. 
"A criminal justice professor doesn't say to students 'I hope you never need to use this,'" says Chapman, who teaches that the first line of self-defense is reducing risk in potentially dangerous scenarios.
"He tells us how to assess a situation, how to read signals, if there's enough lighting, who's with us, what we have in our hands," says class member Katlyn Thorp, a junior studying recreational therapy. Running from an assailant, yelling, calling for help—all can be good options to avoid a confrontation.
"We're not trying to make them paranoid," says Chapman. "We're trying to make them ready." 
Categories