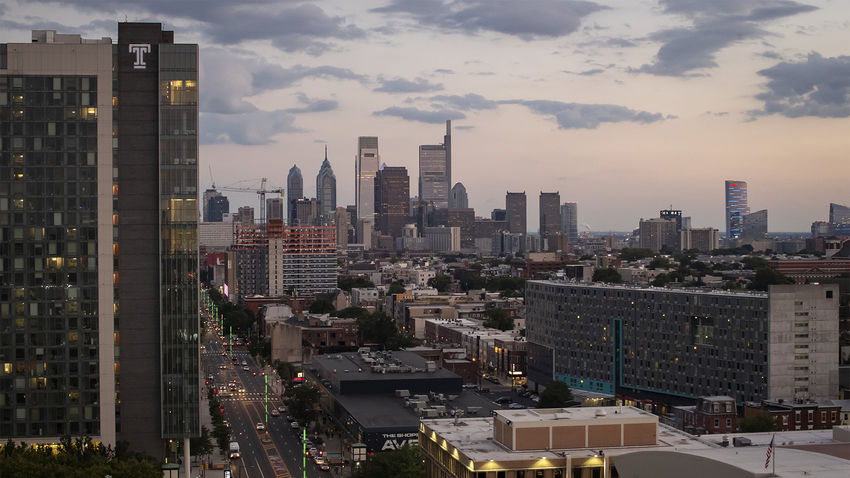 The national public health emergency is providing public health students real-life opportunities to make the most of their training and instincts. Working toward her May graduation with a degree in social work, Temple College of Public Health undergraduate Rachel Dettrey felt she needed to do something extra to help out in the COVID-19 crisis. 
"I knew I wanted to be involved in food distribution and mitigation of the impact of COVID," Dettrey says. "One of the first things I was thinking about was everyone in Philadelphia. There are a lot of issues with accessibility and resources."
Since then, she has been hand-delivering food across the city in her 2009 Honda Accord, while recruiting others to volunteer and seeking families who have fallen outside of the social services umbrella.
"You follow a call-stop-knock-and-go procedure," she explains of the deliveries. "I typically call and let them know I'll be there within 10 to 15 minutes. I'm wearing a mask, gloves, the whole nine yards. I knock, wait for them to open the door and pick it up. I have Lysol wipes in my car. I've got antibacterial spray and wipe everything down when I'm done." For some recipients who have disabilities or are elderly, she has carefully carried the food into homes.
Dettrey got started through her work at the Schulson Collective, a restaurant group in Philadelphia. The restaurants have needed to close temporarily, but the organization started assembling boxes of food for distribution to those who needed the assistance. Dettrey began helping out with the deliveries, and she sent a note to her college professors and peers to spread the word, hoping her message might reach other potential volunteers as well as families that might benefit. "Our ability to come together as a community and protect vulnerable populations is how we can promote healing, growth and recovery," she wrote in her note.
When her list of families that needed assistance grew, she reached out to a widening network of organizations to identify sources of available food. 
"I must have made over 50 phone calls in three weeks," she says. "To Philabundance, to Share Food Program, to the U.S. Department of Agriculture, to the Greater Philadelphia Coalition Against Hunger, to almost every single nonprofit or state agency within the region that I could think of that engages in food distribution. I just kept calling and emailing."
One organization she connected with is the Jewish Relief Agency in northeast Philadelphia, which has an extensive meal-delivery operation in place. JRA has a list of families it serves; Dettrey brought her own recipient list, too.
She has been delivering food through the JRA across northeast and southwest Philadelphia. Associate Professor of Social Work Marsha Zibalese-Crawford responded to Dettrey's call for volunteers and joined her in making deliveries for JRA, transporting meals to as far as Bucks County.
"The families and individuals that we are delivering to are vulnerable, diverse, and in need of these deliveries," Zibalese-Crawford says. "One family I delivered to has 11 people living in the grandmother's house. They moved in together so the children could be taken care of while parents were at work and there was no school."
"I really wanted to reach people that were not already in a system, people that had somehow slipped through the cracks of social support through some way or another," Dettrey says.
Zibalese-Crawford praises Dettrey's heroic effort to step up and make a difference. It's in the spirit of what a College of Public Health can do in a crisis, she says.
"I think it's amazing opportunity for us to show what we can do," Zibalese-Crawford says. "It's our time."
Categories