The World Food Program defines food insecurity to exist "when people do not have adequate physical, social or economic access to sufficient, safe and nutritious foods that meets their dietary needs and food preferences for an active and healthy life." Food insecurity is often the result of multiple factors such as war, poverty, or poor use of farming land. However, as agriculture and food production rely heavily on climate conditions and water availability, insufficient agricultural production due to natural disaster could take years to restore. When natural disasters such as earthquakes, wildfires, floods, hurricanes, or tsunamis occur, not only do communities suffer from the loss of harvest but also from the impacts of contaminated bodies of water, destruction of irrigation systems, and increased susceptibility to disease.
In Malawi, 1.63 million people are unable to access food in order to meet their basic needs due to poor harvests and weather-related shocks. Recent heavy rainfall in Colombia has caused severe flooding leaving thousands without stable food resources. Food insecurity is a worldwide crisis as an estimated 925 million people worldwide are undernourished as reported in 2010 by the Food and Agricultural Organization of the United Nations. Although this number represents about 16% of the population of developing countries, highly developed countries such as the US are still affected as an estimated 14.9% of households in the US are food insecure as of 2011 due to various implications both natural disaster and non-natural disaster related.
Droughts
Droughts occur during an extended period of time ranging from months to years where a region experiences abnormally little to no rainfall. Droughts are currently the single most common cause of food shortages around the world. The extent of the effects of a drought depend upon multiple factors within a community such as the structure and capacity of existing water systems, local governance of water use, economic development, and at-risk populations living within the affected area. Public health implications of drought include compromised quantity and quality of drinking water, effects of air quality, increased risk for wildfires and dust storms, and increased incidence of illness and disease due to malnutrition and/or dehydration. Below are links addressing how to deal with droughts before, during, and after their occurrence along with an overall guide to preparing and responding to droughts at the community level.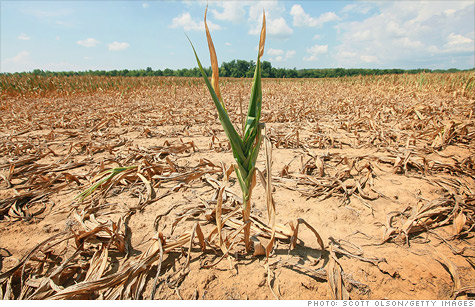 Preparing for Drought:
http://drought.unl.edu/portals/0/docs/DRC_Guide.pdf
During a Drought:
http://www.ext.colostate.edu/drought/cornsilage.html
Response to Drought:
http://www.allianceforwaterefficiency.org/drought_introduction.aspx
When Every Drop Counts: Protecting Public Health During Drought Conditions. A Guide for Public Health Professionals: http://www.cdc.gov/nceh/ehs/Docs/When_Every_Drop_Counts.pdf
Flooding
Although drought is the natural disaster responsible for the most food shortages, flooding is the most common natural disaster and it's implications are equally devastating and long lasting. The impacts of flooding range from agricultural production, water contamination, loss of crops and livestock, and environmental damage to and from agricultural chemicals. Below are links aimed to inform the public of ways to prepare themselves for flooding and how to deal with the disaster during and after the event.
Preparing for Flooding:
http://emergency.cdc.gov/disasters/floods/readiness.asp
During a Flood:
Response to Flooding:
http://emergency.cdc.gov/disasters/floods/after.asp
Countries most affected by food insecurity are those affected by long-lasting or recurring crises, both natural and human-induced, and limited capacity to respond. In order to lessen the detriments of food insecurity, programs need to be put in place that address these problems over a long term span versus immediate and emergency-based care. Many countries show that building longer-term assistance initiatives on the framework of existing local institutions offers the best hope of long-term sustainability and real improvement of food security such as the one implemented by the World Food Programme.