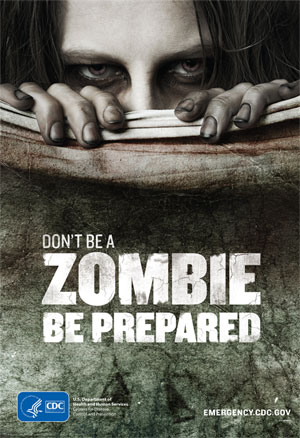 The CDC health preparedness department has produced another graphic novel about a zombie pandemic, to help individuals prepare for disasters. The novel was released late last year and was a hit on New York's ComicCon. The graphic novel is titled "Preparedness 101: Zombie Pandemic." It is entertaining, appropriate for all age groups, and it demonstrates the importance of being prepared in case of an emergency, all at the same time.
You might think "Zombies? Why zombies?" but the health preparedness team thought it would be an innovative and creative idea to use zombies to send their message due to the increased attention pop culture has given to zombies. Much to their surprise, the idea worked. The novel caught the attention of millions of Americans causing the CDC blog server to crash. A zombie apocalypse is an imaginative way to describe a tornado, earthquake, hurricane or a pandemic because zombies would take over the entire cities, countries, destroying anything and everything in their path. This graphic novel shows how to prepare for such disasters, what to do when the situation arises, and how to survive through it. Also as an added bonus, a preparedness checklist is included in the novel so families, schools, and workplaces can get ready before a disaster strikes.
Click on this link to read how Todd and Julie survive a zombie pandemic. You might learn a thing or two while being entertained.
Enjoy!
Picture: Courtesy of the Centers for Disease Control and Prevention-Office of Public Health Preparedness and Response.